4 Financial Stock Stories for Wednesday Reading
UBS (NYSE:UBS): Current price $17.17
According to UBS, it owes Brazil a minimum of $1.2 billion in back taxes dating back to when the lender owned an investment bank there. In its yearly financial statement released on Tuesday, UBS said that BTG Pactual Group, which was created when it divested the investment bank in 2009, had submitted "contractual indemnification claims" worth that amount, among which includes interest and penalties. UBS subsequently sold the division to a group led by Brazilian financier André Esteves for $2.5 billion in 2009, so as  to raise money for credit-related losses in the aftermath of the world financial crisis of 2008.

Berkshire Hathaway (NYSE:BRKB): Current price $97.42
The company's bond-insurance arm has backed its first municipal bond in more than three years and is meeting with good demand from investors on Wednesday, according to market participants. Berkshire Hathaway Assurance Corp. is insuring $106 million in taxable bonds sold to finance a 433-acre mixed-used development in the Colony, Texas, which is outside of Dallas.
Are these stocks a buy or sell? Let us help you decide. Check out our Stock Picker Newsletter now.

TICC Capital Corp. (NASDAQ:TICC): Current price $10.28
TICC on Wednesday said that it has priced a public offering of 5.5 million shares of its common stock at a public offering price of $10.36 for aggregate gross proceeds of about $57 million. The closing should take place on February 11th. The firm has granted the underwriters an option to buy up to an additional 825,000 shares.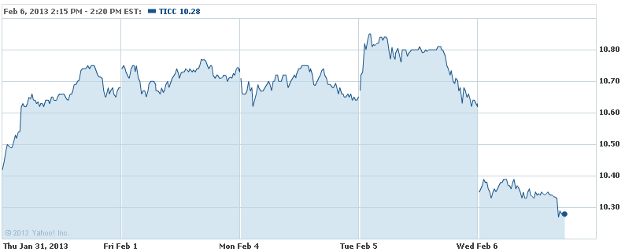 Goldman Sachs Group (NYSE:GS): Current price $150.06
In the wake of Goldman Sachs' divestiture of a $1 billion interest in Industrial & Commercial Bank of China, that country's biggest bank, President Gary Cohn said he's "bullish" on China, commenting to Bloomberg Television's Susan Li in Hong Kong Tuesday that, "You can absolutely still make money off Chinese banks. We are very positive and optimistic, but cautious, about where China's going."

Don't Miss: JPMorgan: Shifting Profits, Shifting Salaries.