4 Financial Stock Stories Gaining Tuesday Traction
Deutsche Bank AG (NYSE:DB): Current price $46.50
Deutsche Bank co-Chief Executive Juergen Fitschen has not, thus far, been charged with misconduct, but prosecutors suspect him of rendering false statements in court during a civil suit brought against the bank by the heirs of late media mogul Leo Kirch. In a statement, Deutsche Bank commented that it is "absolutely convinced that this suspicion will prove to be unfounded." Besides this case, Fitschen is also being probed by a court in Frankfurt regarding claims of tax fraud, originating from carbon emissions trading.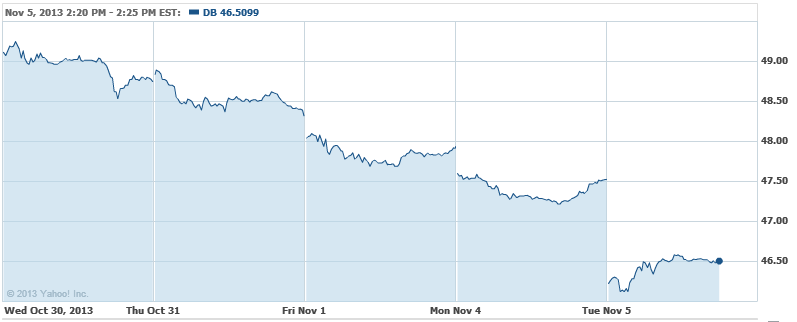 Bank of America Corp. (NYSE:BAC): Current price $13.95
Bank of America is among a number of lenders who are offering loans with down payments that are as low as 5 percent. CNN Money reports that Toronto-Dominion Bank's "Right Step" mortgage permits borrowers to obtain a loan with a 5-percent down payment, and also lets them receive up to 2 percent of the sale price as a gift from a relative or other third party, thus needing only 3 percent down. Following the collapse of the housing bubble, buyers had to be prepared for as much as 20 percent down, or otherwise resort to the Federal Housing Administration for a low down-payment loan.
Wells Fargo & Co. (NYSE:WFC): Current price $42.72
The Wells Fargo International Group, part of Wells Fargo & Co., is commemorating 15 years of serving its Global Financial Institutions customers in Turkey. Through its local office in Istanbul, Wells Fargo supplies payments, trade, deposits, credit, and other financial solutions to financial institution customers spanning the region.

Kohlberg Kravis Roberts & Co. (NYSE:KKR): Current price $23.25
Two knowledgeable person report that KKR has purchased close to 5 percent of the computer chipmaker Marvell Technology Group Ltd. The buyer perceives the company, based in Bermuda, as undervalued and has discussed its holding with its co-founders, Chief Executive Sehat Sutardja and his brother Pantas, according to one person, who asked not to be identified. The informant added that one scenario that KKR is mulling is a leveraged buyout of Marvell, although no such agreement is imminent.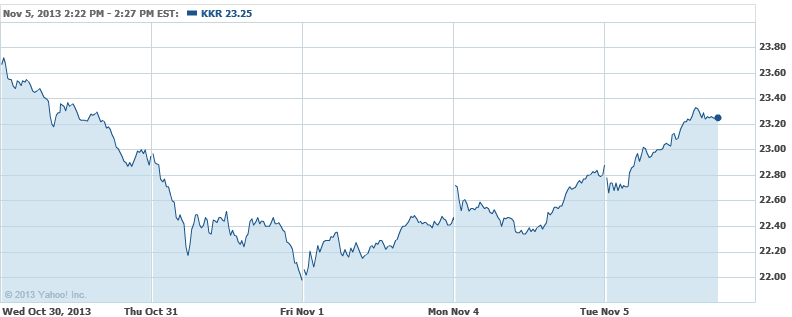 Don't Miss: Are Investors Still Hiding in Cash?