4 Financial Stock Stories Making Midweek Moves
Wells Fargo & Co. (NYSE:WFC): Current price $41.18
On Wednesday, New York Attorney General Eric Schneiderman said he is bringing a lawsuit against Wells Fargo for its alleged failure to comply with the terms of the $25 billion national mortgage settlement from last year. At the same time, he also said he was dropping the suit against Bank of America (NYSE:BAC) regarding similar complaints, since that bank has agreed to improve its practices. Schneiderman announced in May that he intended to sue the two banks for not adhering to servicing standards set by the mortgage settlement in early 2012 to help borrowers in trouble.

Citigroup Inc. (NYSE:C): Current price $48.73
The world chief of Citi's metals and commodity investor products in London, Jason Tudor, will move to Singapore in 2014 to assume the additional position of managing the Asia Pacific commodities team. Tudor will replace Robert Bayley, who returns to London as head of global commodities corporate structuring around the end of March, according to spokesman Simon Boughey in an email to Bloomberg on Tuesday. Both Tudor and Bayley confirmed the moves. Tudor spent more than 20 years in commodities and was employed at banks that include Barclays PLC, Lehman Brothers Holdings Inc., and Nomura Holdings Inc.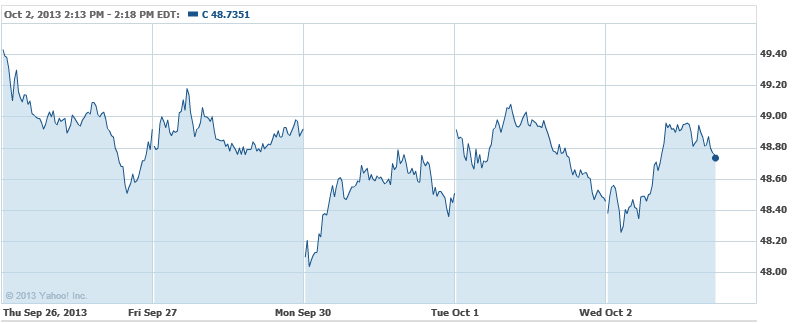 Goldman Sachs Group Inc. (NYSE:GS): Current price $158.78
Speaking after a meeting at the White House with President Obama, Goldman CEO Lloyd Blankfein said that failure to raise the United States's debt ceiling would hold "extremely adverse" consequences. The CEO called on Congress to not use a dispute over the debt ceiling to extort policy changes, saying, "We'd like to see the fight not be on this ground." Blankfein noted that he met with the president as a representative of the financial system and said that he wanted everyone to comprehend the consequences of a potential debt default, observing, "We really haven't seen this before … and not looking forward to it."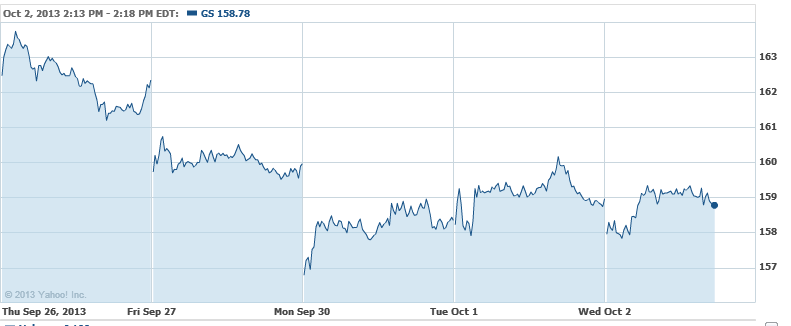 Deutsche Bank AG (NYSE:DB): Current price $47.01
Deutsche Asset & Wealth Management announced Wednesday the introduction of three new hedged equity exchange traded funds on the db X-trackers platform. The new funds track MSCI hedged equity indexes and supply direct exposure to a number of important international equity markets while meant to guard against fluctuations in value of the United States dollar and non-U.S. currencies. Db X-trackers offers the most comprehensive suite of hedged equity ETFs in the country.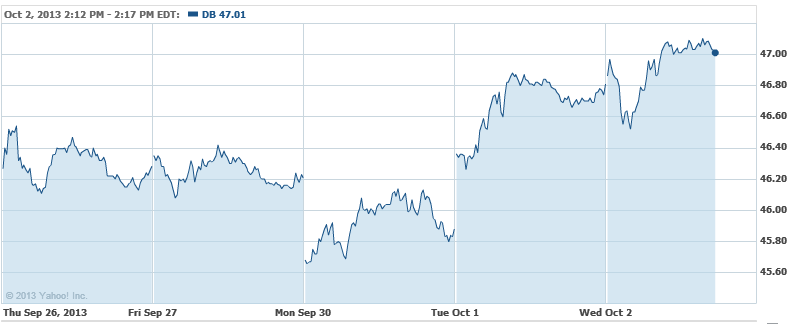 Don't Miss: The Housing Market Receives Another Setback.