4 Financial Stock Stories Making Midweek Moves
Royal Bank of Scotland Group Plc (NYSE:RBS): Current price $11.91
Two knowledgeable sources reveal that RBS has surrendered records of instant messages to United Kingdom regulators after deciding that a former currency trader's communications with counterparts at other companies might have been inappropriate. The messages were connected to the dealer's trading positions, said the sources, who added that the trader had exited the bank prior to the inquiry, and his departure was not related to the probe. Spokesman Stewart Todd for the Financial Conduct Authority would not comment on the communications.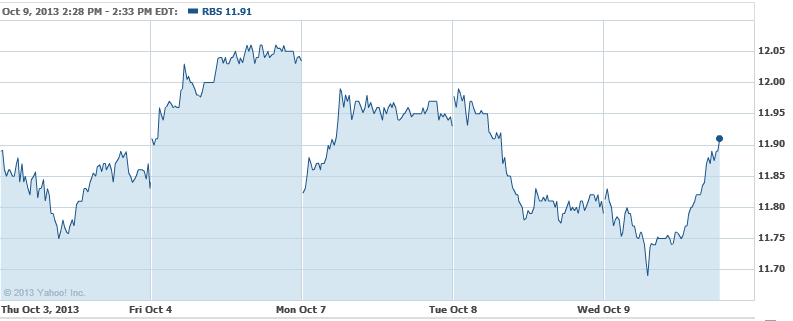 Morgan Stanley (NYSE:MS): Current price $26.87
Morgan Stanley Investment Management has formed a new institutional share class targeted at increasing transparency and reducing fees for  defined contribution plans along with other institutional platforms. These Class IS shares have no distribution, shareholder service or sub-transfer agency payments, and are meant primarily for retirement plans with in excess of $250 million in assets. The IS shares are also available to eligible investors who satisfy an initial investment minimum of $10 million. Eighteen Morgan Stanley funds are now available via IS shares.

Blackstone Group LP (NYSE:BX): Current price $24.94
Blackstone's former business Stonepeak Infrastructure Partners, which manages over $1 billion, said that it raised $1.65 billion for its first standalone fund to invest in assets such as energy and utilities. Stonepeak Infrastructure Fund I, which initially tried for $1 billion, was oversubscribed, according to an email by the asset manager, which also said that investors include TIAA-CREF, which provides retirement accounts for teachers and non-profit organizations, pension funds, as well as other institutions in North America, Europe and Asia.

TD Ameritrade (NYSE: AMTD)
TD Ameritrade shares are up by around 1.33 percent Wednesday after being upgraded at Keefe, Bruyette & Woods from Underperform to Market Perform, along with a price target moved up from $24 to $27.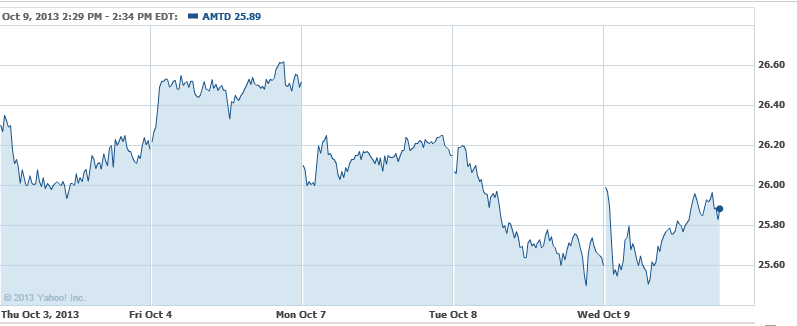 Don't Miss: BofA: Your Defective Mortgage Problems Aren't Over Yet.