4 Financial Stock Stories Making Midweek Moves
Morgan Stanley (NYSE:MS): Current price $29.82
Morgan Stanley on Wednesday announced the completion of a solar facility at its Westchester campus, which should produce around 1,000 megawatt hours of electricity annually, offsetting some 5 percent of the building's total electricity use, and as much as 25 percent during peak output. The project comes from a collaboration between the firm's Corporate Services team and its Commodities Solar Desk, known as MS Solar.

BB&T Corp. (NYSE: BBT): Current price $33.17
BB&T Wealth has inaugurated its first office in the Dallas-Ft. Worth metro area in Texas. The company provides a broad array of financial products and services to upscale clients and families like insurance, financial planning, asset management, lending, personal trust, and estate services. The addition of wealth management services follows a large expansion in Texas by BB&T Corp., the ninth domestic financial holding company in size, according to the company. Since late last year, BB&T has almost doubled its presence in the state, where the bank announced plans to launch 30 new financial centers there.

Barclays PLC (NYSE:BCS): Current price $16.13
Barclays reports the exit of two major executives, including its compliance head Hector Sants, who has been on sick leave due to stress and exhaustion. Sants said that he did not foresee being able to return to work in the near term, and so "decided to resign and not return from sick leave," according to Barclays. The United Kingdom bank also announced that its chief operations and  officer Shaygan Kheradpir, has resigned to fill the vacant chief executive position at the network infrastructure provider Juniper Networks.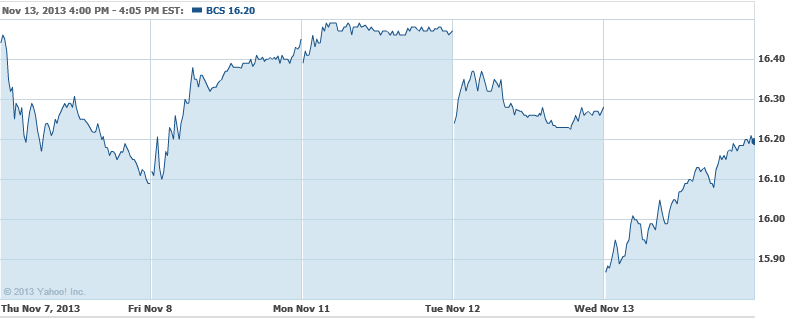 MetLife Inc. (NYSE:MET): Current price $49.54
MetLife announced Wednesday that it has provided $161.5 million in financing to a real estate investment fund that has bought the Marathon Oil Tower in Houston. The insurer's real estate investment department closed the arrangement with CBRE Strategic Partners U.S. Value 6, a fund sponsored by CBRE Global Investors. Marathon Oil Tower is a Class A, LEED Silver, 1.2 million-square-foot office building located in the Galleria submarket of Houston.
Don't Miss: The SEC Expects the Best from the Market Fix-It Brigade.