4 Financial Stock Stories Making Midweek Moves
Morgan Stanley (NYSE:MS): Current price $30.58
Morgan Stanley has recruited Daniel Driscoll from Nomura Holdings Inc. to trade investment-grade notes for the fourth-most active manager of the debt in the United States. Driscoll oversaw financial debt trading at Credit Suisse Group AG in the U.S. before exiting that company in 2012, and will come to Morgan Stanley's New York office as a managing director, said spokesman Mark Lake. Driscoll worked for Japan's number-one brokerage for around a year following a career at Credit Suisse lasting 10 years, at which he concentrated on both investment-grade and high-yield bank bonds.

Wells Fargo & Co. (NYSE:WFC): Current price $43.88
For the fourth straight year, Wells Fargo Shareowner Services, a part of Wells Fargo & Co. has received the industry's top satisfaction rating from corporate customers of U.S. security transfer agents, said a recent study by GROUP FIVE. The survey polled 802 corporations, representing over 29 million registered shareowners, regarding security transfer agents throughout the United States. Among the large agents, Wells Fargo received an 88-percent favorable ranking overall and was rated number one in satisfaction for shareholder service and client fees.

U.S. Bancorp (NYSE:USB): Current price $38.84
U.S. Bancorp Fund Services LLC, announced that it will purchase Quintillion Ltd, a full-service hedge fund administrator domiciled in Ireland. The deal supports U.S. Bancorp Fund Services strategic initiative through which to expand its alternative investment servicing network supporting the European investment community. This purchase continues to emphasize the "long-term commitment of U.S. Bancorp to grow our securities services business," according to Vice Chair of U.S. Bancorp Wealth Management & Securities Services, Terrance Dolan, who also said that, "This enables us to enhance our European presence through additional talented resources, and complements our focus on the expansion and diversification of our alternative investment business."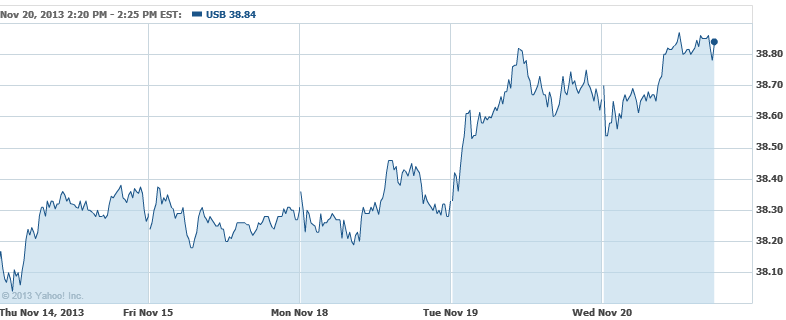 The Allstate Corp. (NYSE:ALL): Current price $53.90
The Allstate Corp has announced a quarterly dividend of 25 cents on each outstanding share of its common stock, payable in cash on January 2, to stockholders of record at the close on November 29. Chair, President, and Chief Executive Thomas J. Wilson observed that, "Allstate continues to provide shareholders with attractive cash returns through quarterly dividends and a share repurchase program which has reduced outstanding shares by 7.0 percent this year through November 15."

Don't Miss: Housing Market Keeps Building on This Losing Streak.