4 Financial Stock Stories Making News In the Short Trading Day
Wells Fargo & Co. (NYSE:WFC): Closing price $41.22
Banking majors should experience both positive and negative effects from the bond sell-off of late that will probably impact second-quarter results when they begin appearing next week, according to Jason Ma at Investor's Business Daily. He said Wells Fargo and JPMorgan Chase & Co. (NYSE:JPM) will report soon and could take a blow from the collapse in mortgage refinancing that began when the Federal Reserve implied it may soon slow down asset purchases. The Mortgage Bankers Association said Wednesday that application activity slumped by 11.7 percent last week from the prior week, driven by a 15.6-percent fall in refinancing. Purchases slipped by 3.1 percent from a week earlier but are up by 12.3 percent on a yearly basis.
Are these stocks a buy or sell? Let us help you decide.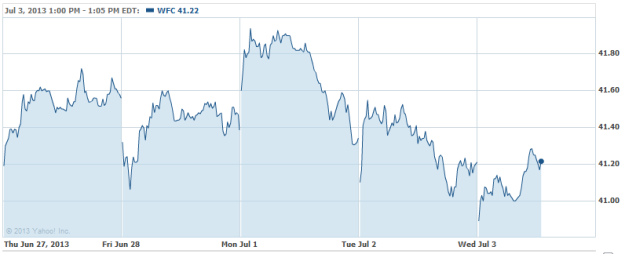 MasterCard Inc. (NYSE:MA): Closing price $586.18
MasterCard commemorated 40 years in Canada by working jointly with MaRS Discovery District to debut a new networking space for entrepreneurs. It announced MasterCard N>XT, the first payment network developer challenge with Rogers and CIBC as co-sponsors, to be held at the MaRS Center. The two-day challenge will take place September 28 and 29 at MaRS and will search for Canada's next important developer and breakthrough payment solution.
Are these stocks a buy or sell? Let us help you decide.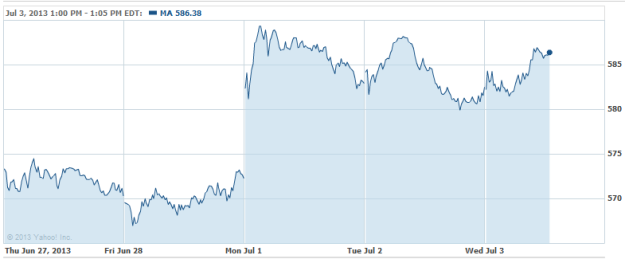 The Bank of New York Mellon Corp. (NYSE:BK): Closing price $28.53
Officers and directors of the Bank of New York Mellon have won the dismissal of a shareholder lawsuit that alleged they shirked their duties by allowing the bank to overcharge clients for trading currencies. United States District Judge Lewis Kaplan in Manhattan, in a decision made public Wednesday, ruled shareholders failed their claim that officials including CEO Gerald Hassell ignored red flags or were aware of facts that indicated the custody bank was acting illegally. Hassell said that the lawsuit did not create "reasonable doubt that the board's inaction was a valid exercise of business judgment." Leading the plaintiffs were the Iron Workers Mid-South Pension Fund and California resident Marilyn Clark, who claimed  the pricing scheme caused more than $2 billion in liabilities for the bank and damaged its credit rating, bottom line, reputation, and stock price.
Are these stocks a buy or sell? Let us help you decide.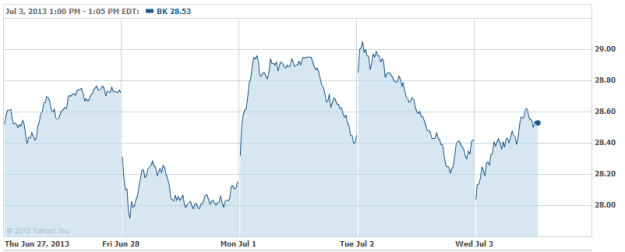 HSBC Holdings (NYSE:HBC): Closing price $52.20
U.S. District Judge John Gleeson in Brooklyn has OKed HSBC Holdings's record $1.92-billion resolution with federal and state investigators of charges that it ignored rules formed to stop money laundering and to block transactions with countries under U.S. sanctions.
Are these stocks a buy or sell? Let us help you decide.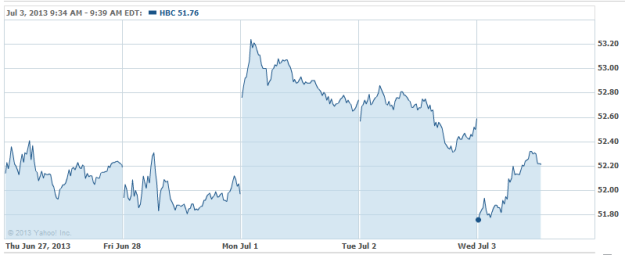 Don't Miss: Sequestration and Obamacare Pushed Up Job Cuts in June.