4 Financial Stock Stories Making Tracks on Thursday
Citigroup Inc. (NYSE:C): Current price $50.11
Three sources told Bloomberg that Citigroup is nearing an agreement to consolidate its New York operations in a TriBeCa office complex that is majority-owned by SL Green Realty Corp. The No. 3 domestic bank had trimmed its choices to the yet-to-be-constructed 2 World Trade Center or 388/390 Greenwich St., two buildings it sold to SL Green in 2007 and leased back, according to the sources. Bloomberg reports that Citigroup executives decided last week to continue negotiating with only SL Green.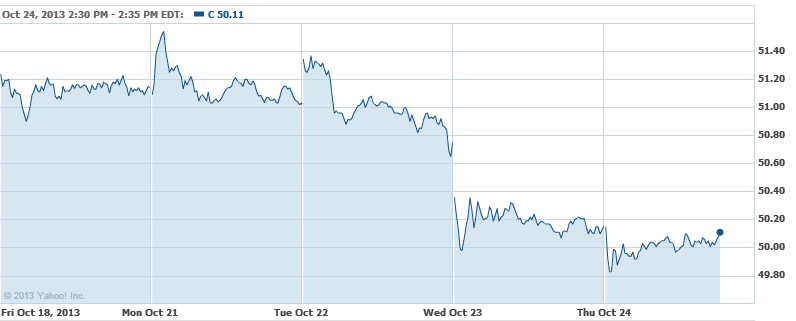 Barclays PLC (NYSE:BCS): Current price $17.25
Barclays on Thursday announced the appointment of Elyssa Kupferberg as a director and investment representative in its Wealth and Investment Management Division. Kupferberg will be tasked with implementing Barclays's global wealth management programs and investment alternative strategies to high net worth individuals, foundations, corporations, and nonprofit organizations.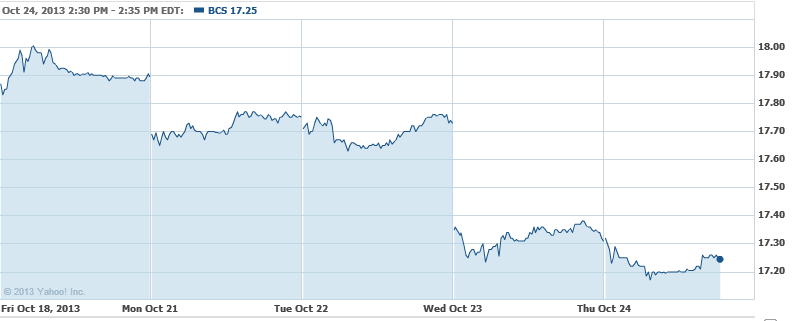 Credit Suisse Group AG (NYSE:CS): Current price $32.58
Credit Suisse CEO Brady Dougan told CNBC that despite missing analyst profit predictions, the bank had a "solid performance. I think it was a solid performance in what has been a challenging quarter for the industry. The overall environment impacted the fixed income business, which impacted the overall results." The second-biggest Swiss bank by market value said that its overall net profit climbed to $509.1 million in the third quarter, a decided improvement year over year, but one in which charges linked to its own debt cut into profits.

Morgan Stanley (NYSE:MS): Current price $29.28
U.S. District Judge Jesse Furman in Manhattan on Wednesday turned aside claims brought by Singapore's Hong Leong Finance Ltd. that Morgan Stanley deceptively sold the former notes designed to fail. Furman ruled that there was insufficient connection between Morgan Stanley's conduct in the United States and the allegedly infringing activities in Singapore. Hong Leong Finance claimed that Morgan Stanley persuaded it to sell so-called Pinnacle notes to its middle- and working-class Singaporean customers by promoting the idea they were "conservative" and "low-risk products." The Singapore firm sold $72.4 million worth of the notes, which subsequently failed.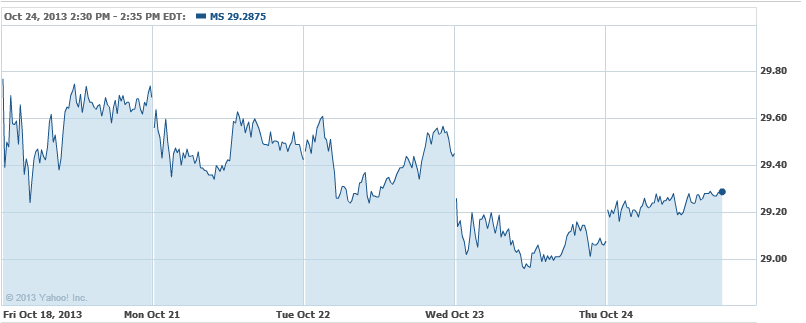 Don't Miss: Berkshire's Holdings House Real Estate Recovery Clues.