4 Financial Stock Stories Making Tracks on Thursday
Citigroup Inc. (NYSE:C): Current price $49.20
In what is becoming a trend, Citi has placed its chief of European spot currency trading in London, Rohan Ramchandani, on leave, while a worldwide inquiry into possible manipulation of foreign exchange rates builds up, said a knowledgeable source on Thursday. The action was mutually agreed upon Wednesday, and is similar to moves in London at JPMorgan and Standard Chartered. A Reuters report this week indicated that JPMorgan's head dealer Richard Usher, and senior trader Matt Gardiner at Standard Chartered, are also on involuntary leave.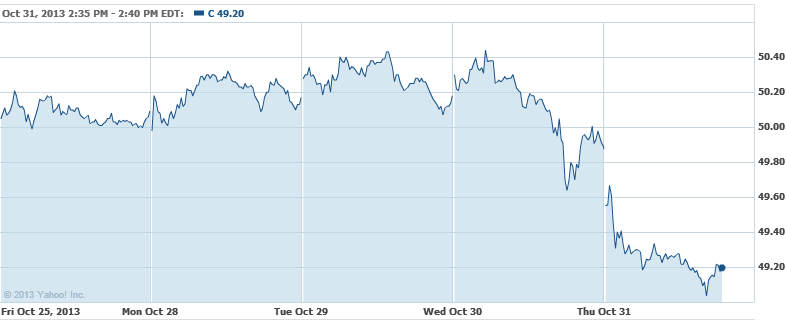 U.S. Bancorp (NYSE:USB): Current price $37.56
U.S. Bank customers may contribute to Operation Homefront at over 2,900 U.S. Bank ATMs in 25 states. The funds will move directly to Operation Homefront, the military support nonprofit organization that gives emergency financial and other assistance to families of service members and wounded warriors. U.S. Bank ATMs will accept contributions from October 30 through November 20. Customers will be able to donate from their primary checking or savings accounts in amounts from $5 through $299.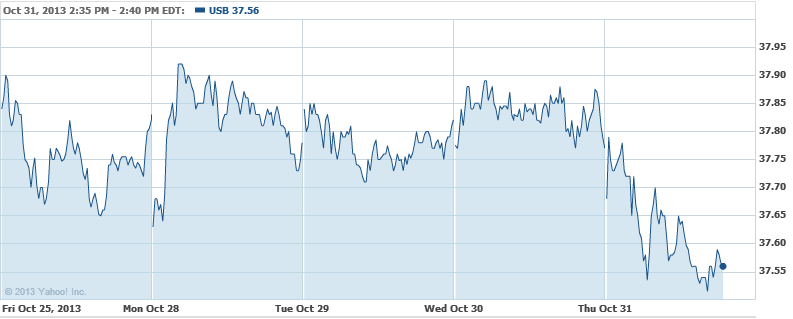 MasterCard Inc. (NYSE:MA): Current price $726.29
Early on Thursday, MasterCard posted better than anticipated third-quarter earnings attributed to robust growth in worldwide business, while credit card transactions rose to 10 billion. Earnings per share climbed by 18 percent to $7.27 on a 16-percent jump in revenue to $2.22 billion. A consensus of 34 analysts polled by Thomson Reuters had $6.95 per share profit on revenue of $2.13 billion.

MetLife Inc. (NYSE:MET): Current price $47.73
The number one domestic life insurer has announced that it will no longer supply annual earnings-per-share guidance as it tries to move investors' focus from short-term performance. On Thursday, MetLife Chief Executive Steven Kandarian remarked that, "I do not believe that we should continue with a practice solely because it is the way it has always been done. After careful study and deliberation, we have determined the EPS guidance no longer makes sense."

Don't Miss: What Happened to Visa's Quarterly Profit?