4 Financial Stock Stories Making Tuesday Traction
Wells Fargo & Co. (NYSE:WFC): Current price $42.71
United States judge Charles Breyer in California has turned aside a lawsuit brought by Wells Fargo and Deutsche Bank that aimed at blocking the city of Richmond's plan to seize mortgages on underwater properties to attempt to disallow future foreclosures.
In a terse, 2-page order, Breyer said he had to dismiss the case because the claims within it "are not ripe for adjudication," explaining that the banks' claims that Richmond is unconstitutionally depriving them of their property do not "rest on contingent future events certain to occur, but rather on future events that may never occur." The banks contended that the city was threatening to seize their property without just compensation by taking mortgages at a "market value" that was arbitrarily low.

Goldman Sachs Group Inc. (NYSE:GS): Current price $166.87
Goldman Sachs Group and Joh. Berenberg Gossler & Co. KG believe that investors anticipate that the German Chancellor Angela Merkel will retain power in an election and that they will likely move money to Europe as the economy recovers. On Tuesday in Frankfurt, deputy chief of Goldman Sachs in Germany Philip Holzer. observed that, "There's a clear expectation that Merkel will be involved in the government in one form or another. Merkel's performance in the crisis was received very positively internationally. The Americans are increasingly constructive on Europe and the periphery."
The chancellor's Christian Democrats, who are ahead of Germany's biggest opposition party in polls prior to the election this weekend, have made fiscal austerity a requirement of rescues of indebted states during efforts to preserve the euro.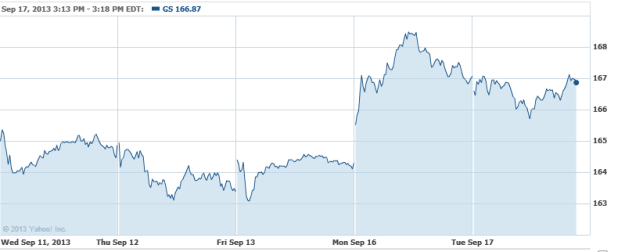 Morgan Stanley (NYSE:MS): Current price $28.95
Morgan Stanley reports that internal stress tests indicate it can withstand a severe economic crisis maintaining a profit, even as it sustains $7 billion in trading and counterparty losses. In a summary of its company-conducted test, the firm said it would maintain a Tier 1 common capital ratio of a minimum of 9.5 percent during a hypothetical shock scenario, above the 5 percent minimum. The scenario assumed that the Standard & Poor's 500 Index would fall by 41 percent while the American and euro-zone economies withdraw 5 percent within the first year.
Morgan Stanley estimated that it would generate an aggregate pretax profit of $600 million from the second quarter of 2013 through the middle of 2015, while experiencing $1.5 billion in loan losses.

ING Groep NV (NYSE:ING): Current price $11.91
ING U.S. Inc.'s Dutch parent company will divest the shares it holds in the company, which went public in the United States in May and is a division of ING Groep NV. Presently, the latter holds a 71-percent interest in the firm. ING U.S. intends to rebrand as Voya Financial and provides retirement, investment, and insurance services to its customers in the United States. The size or timing of the sale was not divulged.

Don't Miss: Goldman Sachs Is Not So Stressed Over Dodd-Frank Tests.