4 Financial Stock Stories Meant to Intrigue
The Royal Bank of Scotland Group (NYSE:RBS): Closing price $11.47
Knowledgeable sources have it that RBS could have to shell out up to £500 million, or $804 million, in fines next week to resolve claims that traders attempted to manipulate interest rates. Also, it might happen that the investment banking chief John Hourican and the head of markets Peter Nielsen would be asked to exit because they had responsibility for the parts of the firm in which the alleged wrongdoing occurred, although they might not have had direct knowledge of the behavior. If imposed, the penalty would be the second-biggest levied by regulators in their inquiry into allegations that traders at the world's biggest banks rigged submissions used to set the Libor.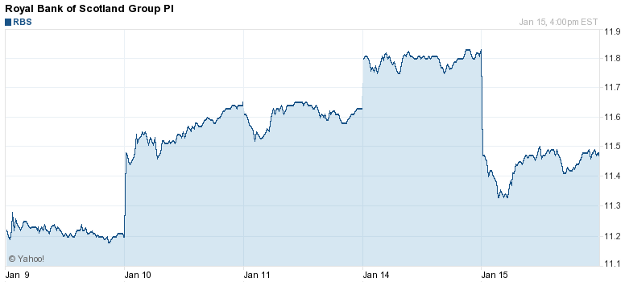 Morgan Stanley (NYSE:MS): Current price $20.43
The firm will take three years for the payout of 2012 bonuses to its high-earning employees, which is intended to better align incentives with shareholder interests, and also to make it harder for employees to leave, according to inside sources to Reuters, who explained that bonuses for all employees, with the exception of retail brokers that earn more than $350,000 annually and whose bonuses are a minimum of $50,000. This arrangement might be unusual (so far), but more banks will likely take to the idea, said Joe Sorrentino, managing director of Steven Hall & Partners, which is a New York-based executive compensation firm.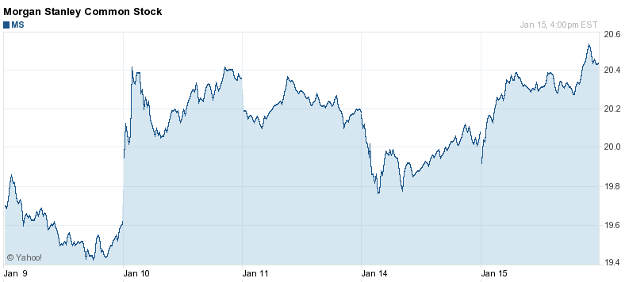 Are these stocks a buy or sell? Let us help you decide. Check out our Wall St. Cheat Sheet Stock Picker Newsletter now >>
Walter Investment Management Corp. (AMEX:WAC): Closing price $46.12
The firm reported Tuesday that it has engaged Credit Suisse Securities, Morgan Stanley Senior Funding, and Merrill Lynch, Pierce, Fenner & Smith Incorporated to help with the arrangement of an incremental $475 million facility to its existing $700 million senior secured first lien term loan facility that matures November 28, 2017.  Proceeds of borrowings under the incremental facility to the senior secured first lien term loan facility will be used to fund the initial installments for the acquisition of the mortgage servicing rights in connection to the $93 billion in UPB of servicing from Bank of America, to pay related transaction expenses and costs and for working capital and general corporate purposes.
Goldman Sachs Group (NYSE:GS): Closing price $135.59
Like it or not, banks operating in the United Kingdom are discovering that the annual bonuses paid to employees are still everyone's business. When Goldman Sachs attempted to follow Morgan Stanley's lead and defer certain bonus payments so as to reduce the tax bills of the employees involved until after April 6th, when the top rates will fall to 45 percent, there came a firestorm from politicians and a public scolding by Bank of England Governor Mervyn King. On Tuesday the company backed down under pressure from comments like that of Chris Leslie, Labour's shadow Treasury minister, who said that banks "need to think carefully about their own reputations if they seek to avoid tax in this way."
Don't Miss: How Much Will RBS Pay for LIBOR Rigging?