4 Financial Stock Stories Not To Be Dismissed
Goldman Sachs Group (NYSE:GS): Closing price $147.86
John Paulson's hedge fund must now defend against allegations that his firm conspired with Goldman Sachs so as to fraudulently coax a bond insurer to guarantee payments on risky debt, according to court papers. On Thursday, the bond insurer ACA Financial brought an amended complaint which named Paulson & Co and its hedge fund Paulson Credit Opportunities Master II as defendants in a $120 million suit that it lodged against Goldman in 2011. The crux of the suit focuses on a collateralized debt obligation called Abacus, which ACA said was created to fail so that Paulson could reap "huge profits" and Goldman "huge fees."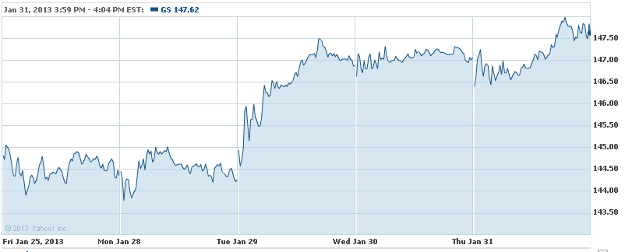 Markets are at 5-year highs! Discover the best stocks to own. Click here for our fresh Feature Stock Pick now!
Lender Processing Services (NYSE:LPS): Closing price $24.05
Lender  said Thursday that it has reached settlement agreements with the attorneys general of 46 states and the District of Columbia. The resolution includes an total payment by LPS of $127 million, and settles inquiries in regards to the firm's default operations, among which include former document preparation, verification, signing and notarization practices of certain operations. Lender is a leading provider of integrated tech and services to the mortgage and real estate industries.

Gramercy Capital Corp. (NYSE:GKK): Closing price $3.59
Gramercy will transfer the collateral management and sub-special servicing agreements for its three collateralized debt obligations, CDO 2005-1, CDO 2006-1 and CDO 2007-1, to CWCapital Investments LLC (CWCapital) for roughly $9.9 million, subtracting adjustments and closing costs. However, the firm keeps its equity interests in the three CDOs, which will give it the potential to recoup additional proceeds over the remaining life of the CDOs, based upon resolution of underlying assets within them. The transfer should close in March.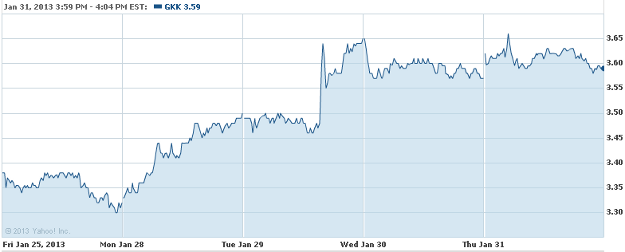 Bank of America Corporation (NYSE:BAC): Closing price $
Speculators in the firm's shares remain confident, and have extended their long calls to a later series, as two large blocks of the February 12th calls traded at the bid price Thursday morning while two other blocks of the March 12th call traded at the ask price. In sum, nearly 19,000 of the front-month positions exchanged for 5 cents each, and 10,000 of the March calls traded for 21 cents apiece.

Don't Miss: Is the Financial Crisis Still Haunting Deutsche Bank?