4 Financial Stock Stories Not to be Missed
H.J. Heinz Company (NYSE:HNZ): Current price $72.22
Securities and Exchange Commission investigators are looking to see if a surge in bullish bets on Heinz was instigated by inside information about Berkshire Hathaway (NYSE:BRKB) and 3G Capital's plan to buy the food industry giant for around $23 billion, according to an inside source. Data compiled by Bloomberg indicate that trading in Heinz call options rose Thursday to the highest level since January 31st. However, the source added that the present inquiry might not necessarily result in a formal investigation.
Are these stocks a buy or sell? Let us help you decide. Check out our Stock Picker Newsletter now.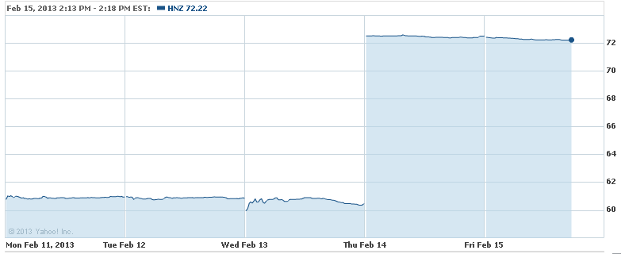 Barclays (NYSE:BCS): Current price $19.83
Barclays, which is currently being pressed to reduce the size of its securities division, paid its investment bankers an
average bonus
of around £54,100, a figure more than twice the average annual pay of British employees. However, these bonuses fell by 17 percent in 2012 from £65,085 for each employee in 2011, according to the bank's full-year earnings statement. The Office for National Statistics says that average pay for United Kingdom full-time employees is £26,500.
The Blackstone Group
(
NYSE:BX
): Current price $19.20
Blackstone, the biggest outside investor in the hedge fund SAC Capital Advisors, reported that the majority of its $550 million will remain with the hedge fund for three more months as it monitors developments in the government's insider trading inquiry. Although SAC has produced one of the best investment records on Wall Street, returning 30 percent yearly over the last two decades, the firm has been fighting to retain investors' money as an investigation into alleged criminal conduct at the fund has intensified.

Chimera Investment Corporation (NYSE:CIM): Current price $3.05
Late Thursday, the corporation announced that it has received a final 30-day extension for continued listing and trading of its stock on the New York Stock Exchange. The extension is subject to review by the Exchange on an ongoing basis and allows Chimera until March 15th to file its 2011 Annual Report on Form 10-K with the Securities and Exchange Commission. During the period, trading of  shares on the NYSE will remain unaffected.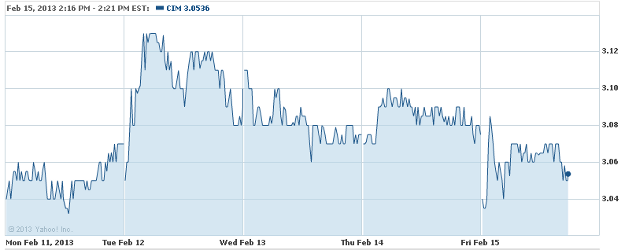 Don't Miss: Lehman Brothers is Playing Ahab; Seeks to Question JPMorgan's 'London Whale'.