4 Financial Stock Stories Not To Be Overlooked
Citigroup (NYSE:C): Current price $42.46
Worldwide alternative asset management platform, Citi Capital Advisors, reports that significant progress has been made towards separating certain of its units from Citigroup, which will create a new independent asset management company to be called Napier Park Global Capital. Already, connected regulatory approvals have been obtained and the investor and counterparty consent process is almost finished. Upon completion during the first quarter, Napier Park Global Capital will be majority owned by its employees and offer a diversified product mix such as hedge funds, bespoke client solutions, CLOs and private investing. The company should have roughly $6.8 billion worth of assets under management at its inception.
Are these stocks a buy or sell? Let us help you decide. Check out our Stock Picker Newsletter now.

JPMorgan Chase & Co. (NYSE:JPM): Current price $47.98
JPMorgan paid investment bankers and traders about 3 percent less in 2012 as economies in the United States and Europe put the brakes on deals, say sources to Bloomberg. Other sources added that portfolio managers and other executives in asset management received on average a 6 percent increase in salary and bonuses.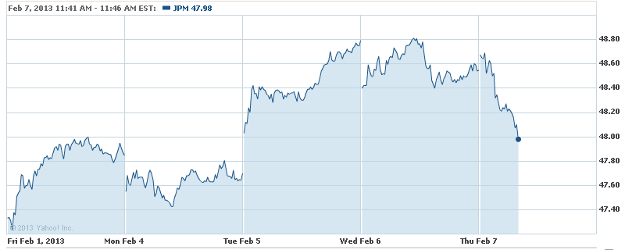 UBS (NYSE:UBS): Current price $16.73
UBS has been hired by BHP Billiton to  find a buyer for its Gregory Crinum coking coal mine in Queensland state, acording to Australian Financial Review on Thursday. The owner closed the Gregory open pit at the operation in 2012, but the Crinum underground mine is still open and might worth about $826 million. The paper quoted a BHP spokeswoman as saying that any decision to go forward with a sale will probably not be made for six to nine months and then, it would depend on market interest and other factors.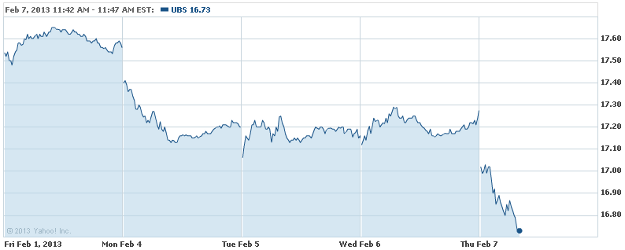 IntercontinentalExchange (NYSE:ICE): Current price $145.33
IntercontinentalExchange estimates that its 2013 adjusted consolidated expenses will rise between 3 and 5 percent from the 2012 adjusted consolidated expenses. Further, the firm expects that purchase-related transaction costs for the first quarter in the range of $10 million to $12 million, mostly connected with the NYSE Euronext (NYSE:NYX) transaction. ICE believes that 2013 operational capital expenditures and capitalized software development costs should be between $60 million and $70 million.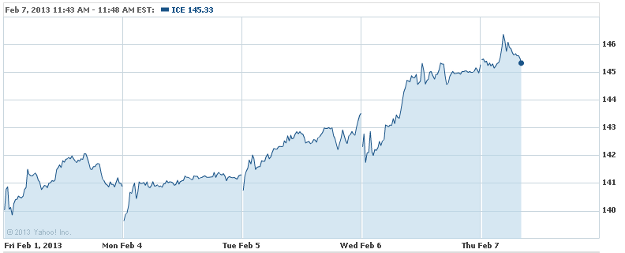 Don't Miss: Unemployment Claims Drop, But So Does Productivity.