4 Financial Stock Stories on the Money on Thursday
UBS AG (NYSE:UBS): Current price $18.05
The Wall Street Journal is reporting that UBS has reached an agreement with European regulators to obtain immunity in an inquiry into manipulation of benchmark interest rates. The Swiss bank is cooperating with European Union antitrust authorities to avert further fines and is supplying information about other banks involved in the investigation, according to the Journal's sources. The interest rate manipulation probe that has engulfed UBS along with Barclays (NYSE:BCS), which is also cooperating with authorities, should be completed within the next few weeks.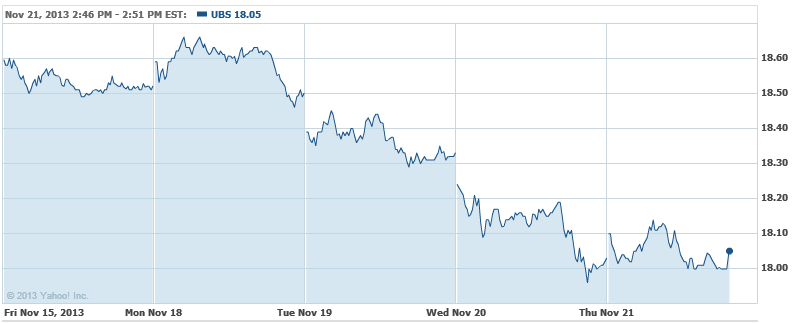 Wells Fargo & Co. (NYSE:WFC): Current price $44.21
Wells Fargo CFO Tim Sloan said that the concept of banks being "too big to fail" is effectively over in the United States. Speaking at an industry-sponsored panel discussion in New York, Sloan observed that the government possesses new tools with which to deal with a failing bank that would not lead to a 2008-style bailout.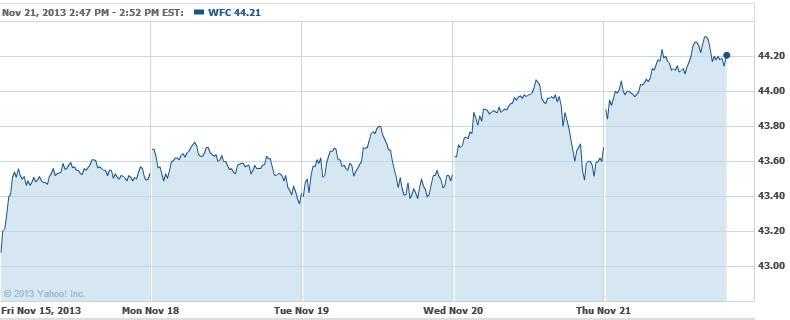 Credit Suisse Group AG (NYSE:CS): Current price $28.58
Credit Suisse said Thursday that it intends to make its retail and private banking business distinct in its home market from its riskier investment banking and trading operations in the United Kingdom and in the United States. The action is known as "ring fencing" and is designed to guard the bank's retail customers and shield the overall company from the impact of problems that would surface in a single unit in the event of another financial crisis. In October, rival UBS reported a similar move. Under the plan unveiled on Thursday, Credit Suisse will create a subsidiary for its Swiss-booked arm including wealth management and its retail and corporate and institutional clients in Switzerland.

Citigroup Inc. (NYSE:C): Current price $51.77
In an endeavor to give aid to children with disabilities, cancer, and autism in the United States, Citibank on Thursday said that it will support Teletón USA's second annual fundraiser by accepting donations in its branches throughout the country and providing the organization with a $300,000 donation during its telethon event. Citibank's support of  Teleton USA expands from Banamex' 17-year history serving as the Bank  of Teleton in Mexico. To promote financial support for Teletón USA, Citibank branches will be equipped to accept cash or check contributions from customers, employees, and community residents until December 31.

Don't Miss: If Oswald Didn't Kill JFK, Then Who Did? 5 Conspiracies Examined.