4 Financial Stock Stories Ready for a Savvy Read
Wells Fargo & Co. (NYSE:WFC): Current price $42.95
In August, Wells Fargo laid off over 280 employees in the Charlotte area, and word is that the bank will add some 150 workers to that number, as the company's home mortgage refinancing business stalls. Increasing interest rates have slowed down home mortgage refinancing throughout the United States and Bank of America Corp. recently eliminated roughly 2,000 jobs spanning the country in its mortgage business. Spokeswoman Christine Shaw for Wells Fargo said that the 150 Charlotte workers were given 60-day notices on Wednesday, and that 48 workers in Raleigh were also given notices.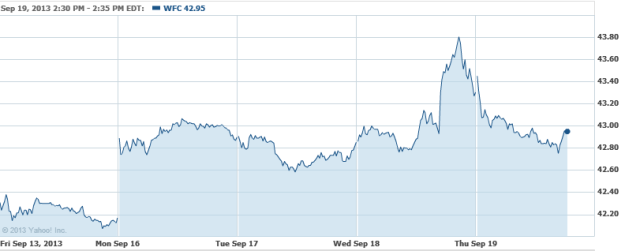 Morgan Stanley (NYSE:MS): Current price $28.61
Morgan Stanley Chief Executive James Gorman told the Economic Club of Washington on Wednesday that Congress's protracted wrangling over whether to raise the United States borrowing limit is giving him migraines. Gorman remarked that, "It's like a permanent headache. It just won't go away," as he urged the political community to "come to the middle ground" before the government breaches the limit later in the year, an event that could cause chaos in the financial markets.
The CEO commented that, "It's not like one side is going to wake up one morning and say, 'the other guys were right all this time.' I don't understand why folks can't be realistic and accept that any significant debate, there has to be some give and take."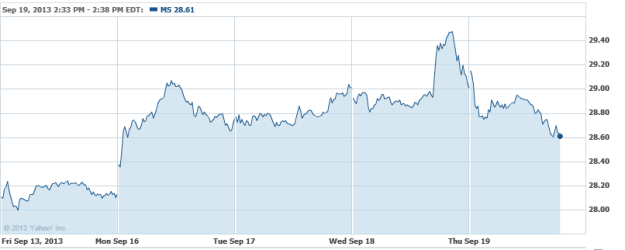 Barclays plc (NYSE:BCS): Current price $17.88
On Thursday, Barclays introduced the Mirror Futures and Duration Hedged Indices, a new array of index products which employ liquid Treasury futures contracts to replicate the interest rate duration exposure of a Barclays fixed income index. It is anticipated that the new indices will be used by both active and passive investors for a number of portfolio applications that include index replication, interest rate hedging, and as benchmarks for investors who prefer duration exposure that differs from their existing benchmark.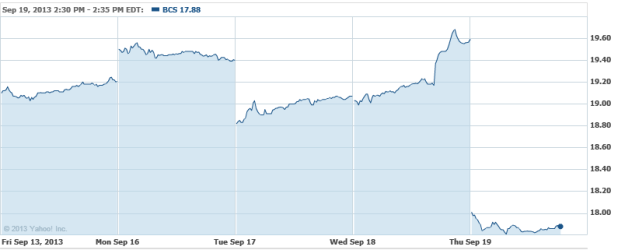 MetLife Inc. (NYSE:MET): Current price $47.16
Chief Financial Officer John Hele of MetLife says that federal regulators could miss important dangers to the financial stability of American insurers by centering on bank risks only. Hele observed at a conference in New York held by KPMG LLP that, "Bank rules overlook key insurance risks," and that the bank regulatory system "doesn't look at liabilities at all, it doesn't look at asset-liability mismatch directly."
As the number one domestic life insurer, MetLife is in the final stage of evaluation as to whether be designated systemically important by United States regulators, which would put it under Federal Reserve oversight.

Don't Miss: Now and Then: Fed Policy Changes Turn Markets on Their Head.