4 Financial Stock Stories Ready for a Savvy Thursday Perusal
Barclays Plc. (NYSE:BCS): Current price $16.17
Barclays is poised to eliminate 1,700 jobs spanning its branch network, explaining that fewer staff are necessary, because more customers are now banking online. The number of tellers, personal bankers, and managers kept by the bank is projected to be lowered throughout next year. The trade union Unite has characterized the decision as a "colossal mistake" and said that it will oppose Barclays' claims that the manner in which customers access their banking services is changing that rapidly. Unite's national officer Dominic Hook observed that, "These employees deliver high levels of service that customers of the bank benefit from."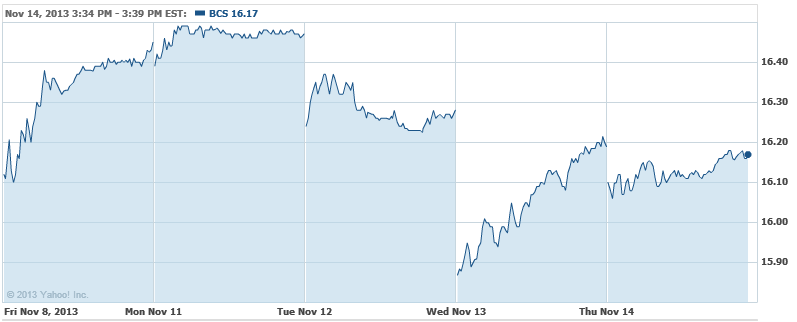 Morgan Stanley (NYSE:MS): Current price $30.33
Chief Executive James Gorman says that his bank hopes to expand its $500 million share repurchase program that was approved earlier this year, adding that not doing so would represent a disappointment. Gorman told CNBC.com on the sidelines of Morgan Stanley's annual Asia-Pacific Summit, that, "We think the firm has recovered from the crisis, logically, given that we've had a modest [share] buyback, we've had good earnings, you would expect we would increase it. We can't talk about how much, and it's up to the Federal Reserve to approve, but I think it would be disappointing not to increase."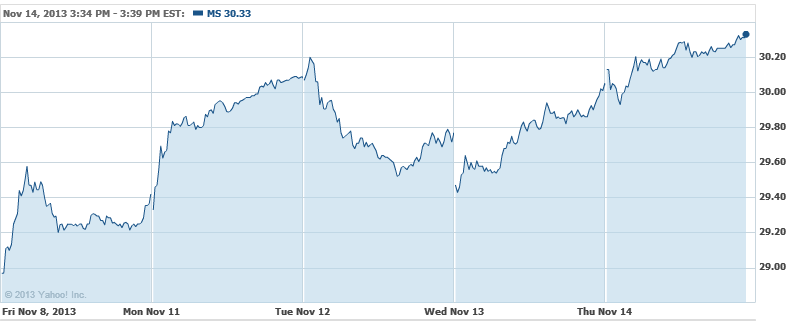 Deutsche Bank AG (NYSE:DB): Current price $45.85
The big rainmaker Jonathan Hitchon, co-chief of global prime finance in New York for Deutsche Bank, is exiting the bank in the next few months, according to the New York Post. It expects that Hitchon will be replaced by Murray Roos, who has held a number of senior equities roles during the past decade within the company.
AFLAC Inc. (NYSE:AFL): Current price $67.45
On Thursday, AFLAC Inc.'s board authorized the purchase of as many as 40 million shares of its common stock. This authorization is in addition to the 16.9 million shares that remained under a previous authorization as of September , bringing the aggregate amount of shares available for purchase to around 56.9 million. AFLACC expect that the repurchase of shares will be conducted from time to time in open market or negotiated transactions, depending upon market conditions.

Investing Insights: Can Goldman Sachs Break Out of Its Range?