4 Financial Stock Stories Stirring Midweek Chatter
JPMorgan Chase & Co. (NYSE:JPM): Current price $53.55
Bank of America Corporation has recruited Anwar Zakkour away from JPMorgan to be co-chief of global telecommunications, media and technology investment banking, said a memo obtained by Bloomberg. Zakkour will stay based in New York, and will report to the global head of investment banking, Christian Meissner, according to the memo, the contents of which were affirmed by a Bank of America spokesperson. His co-chief will be Chet Bozdog, who is presently head of global tech investment banking. Data compiled by Bloomberg indicate that Bank of America lags JPMorgan and Goldman Sachs Group in advising on mergers and acquisitions.
Are these stocks a buy or sell? Let us help you decide.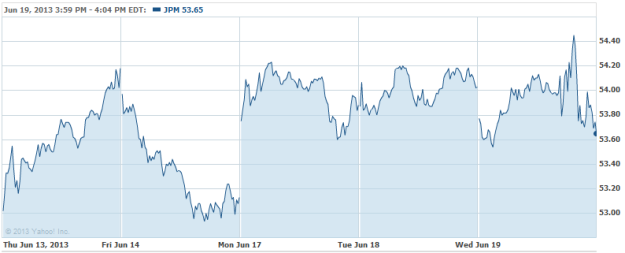 Wells Fargo & Co. (NYSE:WFC): Current price $40.66
As it continues to back its Global Financial Institution customers, Wells Fargo's International Group, which forms a part of Wells Fargo & Co., is commemorating the 25th anniversary of its Overseas Bankers Training Program. Through this program, Wells Fargo invites select bankers from its GFI customers to San Francisco and supplies education and training in topics among which are credit analysis, risk management, cross sell and trends in international banking. The 2013 participants came from banks throughout Asia, including China, Hong Kong, India, Indonesia, Japan, Laos, Malaysia, Philippines and Taiwan.
Are these stocks a buy or sell? Let us help you decide.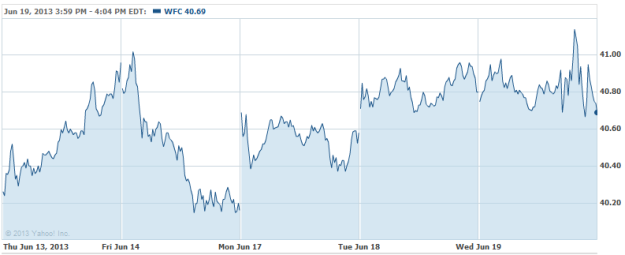 MasterCard Incorporated (NYSE:MA): Current price $586.37
On Wednesday, MasterCard announced the naming of Gilberto Caldart as president of its Latin America and Caribbean business, effective August 1st. Caldart presently heads the firm's GeoSouth Division, comprised of Argentina, Bolivia, Brazil, Chile, Paraguay, Peru, and Uruguay, for MasterCard LAC, and will report to President Ann Cairns of MasterCard's International Markets. He takes the place of Richard Hartzell, who will assume a new role as the chief of MasterCard's business with merchants and acquirers across its international markets.
Are these stocks a buy or sell? Let us help you decide.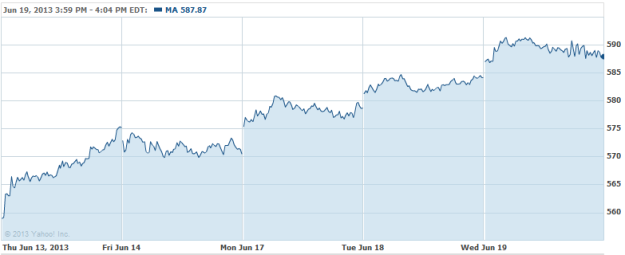 American International Group (NYSE:AIG): Current price $44.81
Following an analyst meeting with Chief Executive Peter Hancock of AIG's property-casualty division, Deutsche Bank upgraded its price target from $52 to $56, according to a note to investors on Tuesday by analyst Joshua Shanker. The analyst is "more confident" that AIG is ahead of schedule on its plan to boost margins in its property-casualty unit after meeting with Hancock, and also predicted that the firm will begin paying a dividend of 17 cents per share in the third quarter.
Are these stocks a buy or sell? Let us help you decide. Check out our Stock Picker Newsletter now.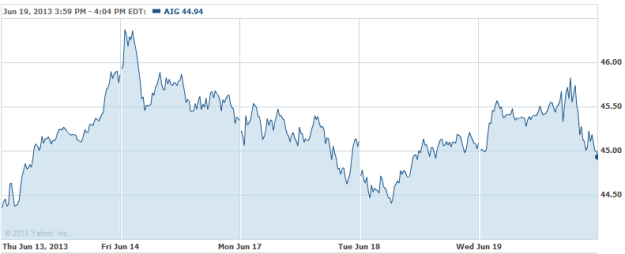 Don't Miss: Did Bank of America Purposely Delay Applications for Mortgage Aid?