4 Financial Stock Stories to Beat the Monday Blues
Barclays (NYSE:BCS): Current price $18.79
Barclays admits that it underreported a lifeline investment in the bank during the financial crisis of 2008, which allowed it to avert a government bailout. At that time, Sheikh Mansour bin Zayed Al Nahyan injected liquidity of £3 billion into Barclays in return for a stake, according to a shareholder vote of November 24, 2008, but on the next day, only the small print of regulatory disclosures by the bank showed that he had passed the stake on to the International Petroleum Investment Company which is owned by the state of Abu Dhabi and of which he is chairman. Then, Barclays' annual report still referred to Mansour as the owner of the stake which the bank now says was a"drafting error". The matter was uncovered during an investigation by the BBC's Panorama program to be aired on Monday night .
Are these stocks a buy or sell? Let us help you decide. Check out our Stock Picker Newsletter now.
Goldman Sachs Group (NYSE:GS): Current price $151.68
Goldman has appointed the veteran banker Gregg Lemkau to be world co-head of mergers and acquisitions, according to a company memo from Monday morning. Presently, Lemkau is the bank's chief of M&A in the European and Asian-Pacific regions and is based in London. His promotion will have him  join Gene Sykes, another Goldman veteran, who has held the role solely since the exit in 2012 of Yoel Zaoui who had shared the title.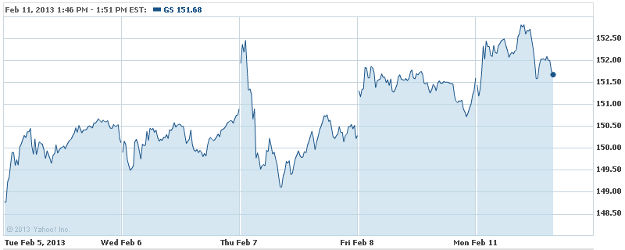 AXIS Capital Holdings Limited (NYSE:AXS) Current price $39.94
On Monday, AXIS announced an underwritten secondary public offering of 2,736,223 common shares which are being sold by Trident II and related entities. After giving effect to this offering and the recently reported buyback of 3 million common shares by AXIS Capital from Trident, the latter will no longer own any of AXIS Capitals common shares, none of which are being sold by AXIS Capital in the present offering, nor will it receive any proceeds from the offering. UBS Investment Bank will be the sole underwriter for the offering.

Redwood Trust (NYSE:RWT): Current price $19.82
Shares of the real estate investment trust Redwood have provided a return of 84 percent during the past year with zero defaults among the $4 billion of jumbo loans it packaged and sold as bonds since 2010. The real estate business is set to pick up steam as the domestic housing rebound positively impacts California and East Coast cities where Redwood gets its mortgages. Across the country, jumbo loans, which are too large for government backing, could rise by 5 percent to $253 billion after jumping by 29 percent in 2012.

Don't Miss: Goldman Sachs Redistributes Its M&A Manpower.