4 Financial Stock Stories to Begin the Trading Week
Citigroup Inc. (NYSE:C): Current price $51.01
Late Friday, Citi strategist Tobias Levkovich joined the bullish ranks, projecting a 1900-price target for the S&P 500 by the end of next year. A level like that would mark a roughly 12-percent increase for stocks during the next 15 months as the S&P 500 recently traded just above 1700. Levkovich wrote in a note to clients that, "Establishing year-end S&P 500 targets are always challenging but various indicators argue for continued gains in 2014."
The analyst employs a compilation of data to calculate his forecasts, including valuation, earnings yields, consumer-confidence data, investor sentiment, and currency trends. He also believes that the Dow will touch 17100 by the end of 2014. The blue-chip average recently moved above 15500.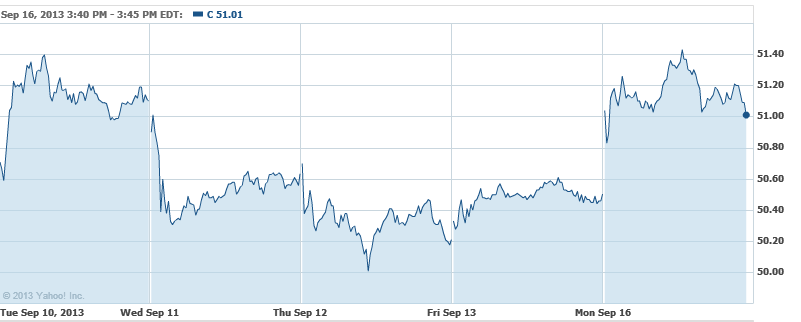 Wells Fargo & Co. (NYSE:WFC): Current price $42.92
According to Bloomberg, Wells Fargo will go forward with the sell-off of mortgage-servicing rights on $41 billion worth of government-backed home loans. The firm is doing this to scale back its non-core operations and further reinforce its balance sheet. Due to new capital regulations, servicing loans have become an expensive proposition for the banks, and Wells Fargo's decision is based upon reduction in the mortgage business for adapting new Basel III rules so as to lower risks. Wells Fargo, having contracts on $1.9 trillion of loans, recorded around $393 million in the second quarter from the mortgage business.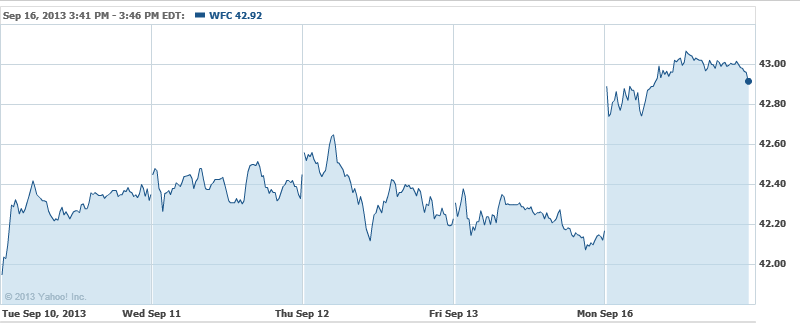 MasterCard Inc. (NYSE:MA): Current price $670.68
MasterCard said Monday that will work jointly with the financial tech firm Entrepreneurial Finance Lab to create new tools meant to enhance credit underwriting for small and midsize firms in developing economies. The Lab is a privately-held offshoot of the Harvard University Research Lab that employs psychometric and other data to develop credit scores that measure risk and potential among SMBs. The partnership intends to give credit issuers in developing markets new tools to help improve credit underwriting for unbanked small businesses. MasterCard says that the move will increase access to capital for SMBs in developing economies and unlock their entrepreneurial potentials.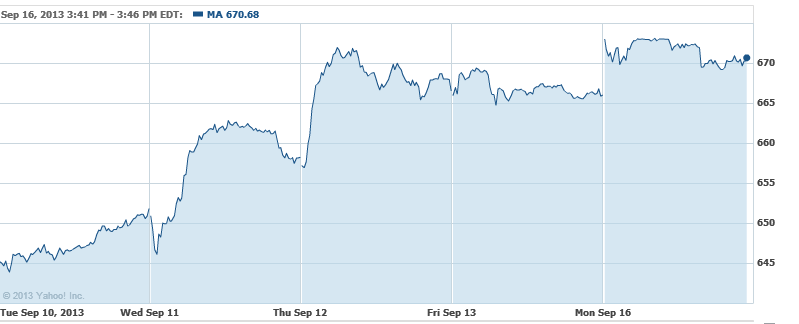 Goldman Sachs Group Inc. (NYSE:GS): Current price $166.83
Internal memoranda at Goldman Sachs indicate that the firm has chosen R. Martin Chavez to become its new chief information officer as the present CIO Steven Scopellite retires at the year's end. Chavez currently serves as co-chief operating officer of the bank's equities division and is known for his technological and analytical skill, having managed the formation in the 1990s of an internal software platform now known as Marquee. He came to Goldman in 1993 as a senior energy quantitative analyst.

Don't Miss: Mr. Market Throws Summers a Farewell Party.