4 Financial Stock Stories to Bring In the New Trading Week
Morgan Stanley (NYSE:MS): Current price $24.40
In a note written Monday, analysts at Goldman Sachs say that Morgan Stanley and Bank of New York Mellon Corp. are the two American banks likely to see the biggest capital shortfall should regulators double the leverage ratio and not exempt cash and government bonds. Presently, Morgan Stanley's Tier 1 leverage ratio is around 4.5 percent, and Bank of New York's is 3.9 percent, marking the banks farthest behind the 6 percent requirement that is thought to be under consideration, , according to the analysts led by Richard Ramsden, who explained that the average Tier 1 leverage ratio for large banks stands at 5.5 percent. Regulators are thinking about doubling the amount of capital the largest banks would be required to hold to 6 percent of total assets, said knowledgeable sources.
Are these stocks a buy or sell? Let us help you decide.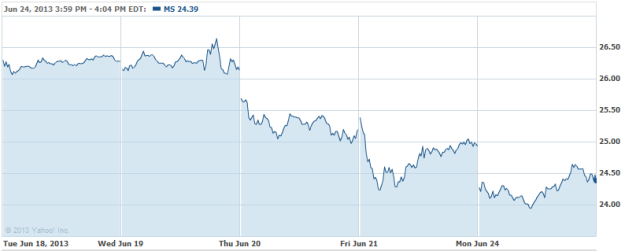 Bank of America Corporation (NYSE:BAC): Current price $12.30
BofA has told Texas regulators that it will slash 411 jobs from a division that services troubled mortgages. The bank will cut 324 positions in Richardson, and 87 jobs in Dallas, according to letters dated June 19. Bank of America Senior Vice President, Government Relations, John Collingwood corresponded that workers were notified earlier in June of reductions to be completed Sept. 30th. Chief Executive Brian T. Moynihan has targeted some $8 billion in annual costs and 30,000 jobs in his efficiency plan, known as Project New BAC. Quite a few of those cuts are in the division created in 2011 to service delinquent and risky mortgages.
Are these stocks a buy or sell? Let us help you decide.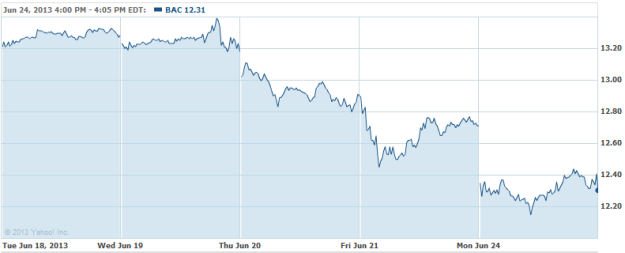 UBS (NYSE:UBS): Current price $16.67
On Monday, UBS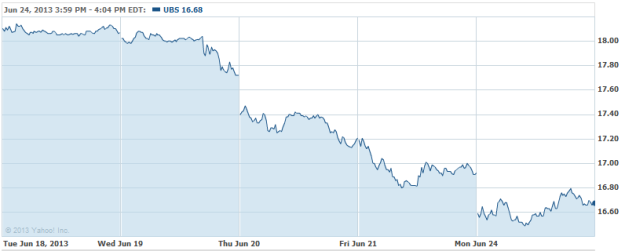 Lloyds Banking Group (NYSE:LYG): Current price $3.73
This month, Lloyds commences discussions with the European Commission, prior to the deadline for the disposal of the so-called "Project Verde" unit on November 30th. Lloyds has requested that the EC to allow it until the end of 2015 to finish the sale, and has also asked that it be permitted to divest the branches in the form it had agreed with the Co-op before the mutual exited the deal.
Are these stocks a buy or sell? Let us help you decide.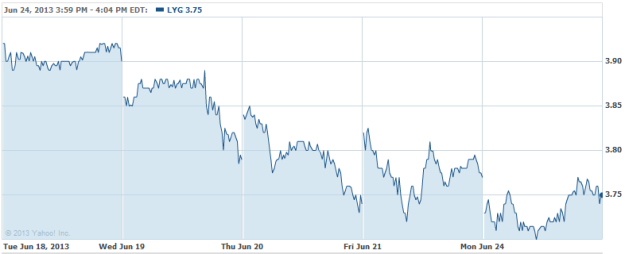 Don't Miss: Have Central Banks Finally Reached Their Limits?