American International Group (NYSE:AIG): Current price $46.16
On Thursday, Peoples Insurance Company (Group) of China and PICC Life Insurance Company Limited announced that they have formed a joint venture agreement to set up an agency distribution company in China. In December, AIG invested $500 million as the biggest cornerstone investor in the PICC initial public offering. Linked with this investment, PICC Life and AIG created this joint venture agency distribution company. Products that might be distributed by the joint venture include jointly developed life and retirement insurance products, ongoing PICC life products, PICC Property & Casualty  insurance products, AIG P&C products, along with other products targeted at meeting the needs of this developing market. AIG will hold 24.9 percent of the distribution company, with PICC Life holding the remaining 75.1 percent.
Are these stocks a buy or sell? Let us help you decide. Check out our Stock Picker Newsletter now.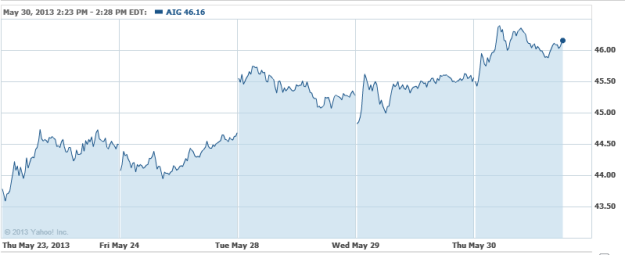 MetLife (NYSE:MET): Current price $44.48
The big domestic life insurer, is slashing its adviser force by one-third, cutting some 2,500 jobs as it shrinks variable annuity sales and relies on other countries for growth. The chief of MetLife's domestic retail business Eric Steigerwalt, said at a May 21st  investor day presentation that the firm has roughly 5,000 advisers who sell insurance and investment products, considerably under the 7,500 in February of 2012, adding that the company reduced the number of agencies to around 60, from 85. Steigerwalt said that "We're not financing advisers who, frankly, were never going to make it in this business. Our productivity is way up and we're saving a lot of money." MetLife has said that U.S. divisions should contribute 60 percent of Chief Executive Steven Kandarian's targeted $600 million in expense cuts as he looks for growth in emerging markets like Chile and Turkey.
Are these stocks a buy or sell? Let us help you decide. Check out our Stock Picker Newsletter now.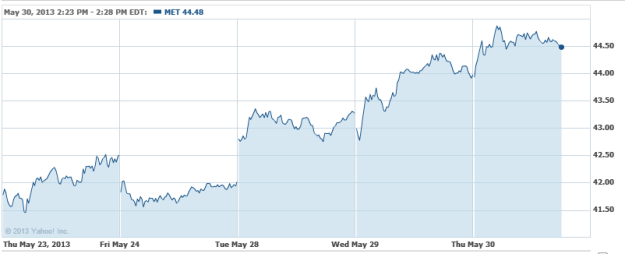 Wells Fargo & Co. (NYSE:WFC): Current price $41.41
Speaking at an investor conference in New York on Thursday, sponsored by the Sanford C. Bernstein & Co. research firm, Chief Executive John Stumpf said that managing low interest rates could be the most pressing challenge for bankers, and that Wells Fargo had prematurely kept funds idle to prepare for increases. Stumpf commented that "One of the biggest risks today in our industry is not credit risk, its interest-rate risk." Investors have pressured bankers in regards to how their companies can increase lending profit margins in a low-rate environment, and push up stock prices. Wells Fargo in the number-one domestic home lender, and ranks fourth by assets.
Are these stocks a buy or sell? Let us help you decide. Check out our Stock Picker Newsletter now.
Kohlberg Kravis Roberts & Co. (NYSE:KKR): Current price $19.95
The firm announced Thursday the selection of retired four-star General and former Director of the CIA David Petraeus as chairman of the newly-created KKR Global Institute. Co-Founder and Co-Chief Executive of KKR Henry Kravis stated: "I have long known and respected General Petraeus and, on behalf of everyone at KKR, I welcome him to the firm. As the world changes and we expand how and where we invest, we are always looking to sharpen the 'KKR edge.' With the addition of General Petraeus, we are building on the work we have done to understand the investment implications of public policy, macro-economic, regulatory and technology trends globally. We are pleased to bring all of this expertise together under one umbrella, the KKR Global Institute, to deliver the best of KKR's insights for our investors."
Are these stocks a buy or sell? Let us help you decide. Check out our Stock Picker Newsletter now.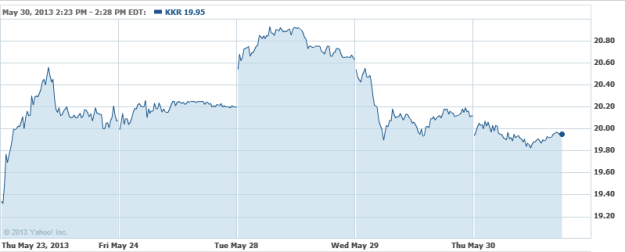 Don't Miss: The Housing Recovery Hits Another Speed Bump.