4 Financial Stock Stories to Close Out the Busy Trading Week
The Blackstone Group (NYSE:BX): Current price $27.67
On Friday, Blackstone said that funds managed by Blackstone Tactical Opportunities have set up B2R Finance through which to provide residential buy-to-rent mortgages for property investors, centered exclusively upon the financing needs of single-family home investors. B2R's products have been designed to serve investors who have portfolios of five to five hundred homes across the United States.

Wells Fargo & Co. (NYSE:WFC): Current price $43.52
The Wells Fargo Managing Director, Public Finance, J. Patrick Sheehan, who while a student, was the first person to serve as Georgetown University's mascot in a bulldog costume, has passed away at 54. He was killed on November 9 after the chauffeured Lincoln Town Car in which he was riding was struck by a Ford Explorer sport utility vehicle that crossed the median on the Hutchinson River Parkway in the Bronx, according to a police statement. He and the driver, Ata Noorzi of Queens, died at the scene of the accident.

Apollo Global Management LLC (NYSE:APO): Current price $30.20
Apollo Global has raised $3.9 billion to acquire distressed European assets, and is now searching for hotels and resorts in Spain, while tourists from the United Kingdom and across Europe help get the country out of a recession. The chief of European real estate at Apollo, Roger Orf, observed that the lodging industry is "rather bombed out, needs capital. Room rates can go up rather quickly over ensuing years," at a real estate conference in Barcelona, which is one of Europe's most popular holiday places.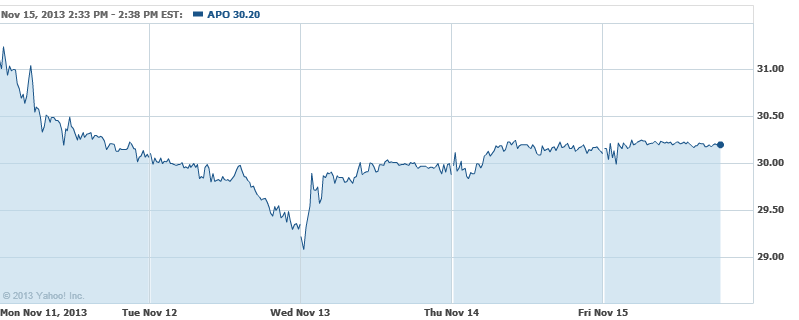 Kohlberg Kravis Roberts & Co. (NYSE:KKR): Current price $22.99
KKR and Google Inc. will purchase six solar farms that Sharp Corp.'s Recurrent Energy arm is developing in California and Arizona in a transaction worth $400 million. The six projects yield a combined capacity of 106 megawatts and should be operational by January, said a Friday statement. The buyers are supplying both equity and debt financing for five projects in Southern California and one in Arizona that will produce sufficient power for over 17,000 homes.

Don't Miss: Are You Confident About Retirement?