4 Financial Stock Stories to Close Out the Trading Week
The Royal Bank of Scotland Group (NYSE:RBS): Current price $11.75
The Royal Bank of Scotland has divested a major interest in its 314-branch 'Project Rainbow' business to a consortium led by the private equity firm Corsair Capital. The new business, which will go by the revived William & Glyn's name, will receive a 600 million euros pre-IPO investment from the consortium, together with an additional payment of up to 200 million euros. Other members include the Church Commissioners for England, Lord Jacob Rothschild's RIT Capital Partners, and the United States private equity investor Centerbridge Partners. A management team, led by former Lloyds commercial banking chief John Maltby, will manage Williams & Glyn along with RBS, until the IPO, which is not expected for another two years.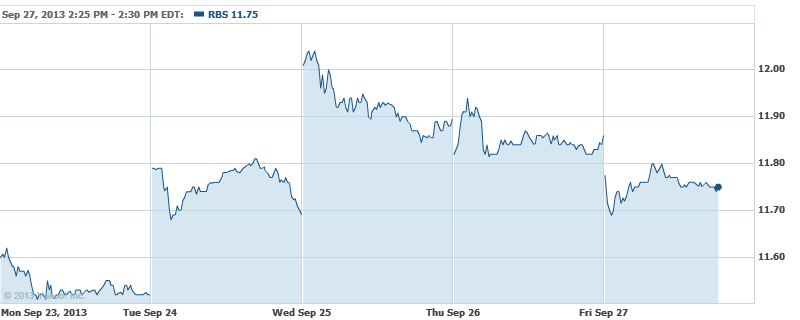 Morgan Stanley (NYSE:MS): Current price $27.09
Analyst Brad Hintz at Sanford C. Bernstein & Co. reduced Morgan Stanley's earnings estimates during a decline in trading he termed as "a full-scale rout." The company's per-share third-quarter estimate was lowered by 20 percent to 41 cents, and the 2013 figure dropped by 4.8 percent to $1.98. Hintz wrote that, "While the third quarter is typically seasonally soft, third quarter 2013 appears to be turning into a full-scale rout in trading as weak activity and limited risk-taking constrained performance," adding that fixed-income trading volume could slide by between 20 and 25 percent on average in the three months ended September 30. At the same time, Goldman Sachs saw their earning estimate suffer a similar fate by the same analyst.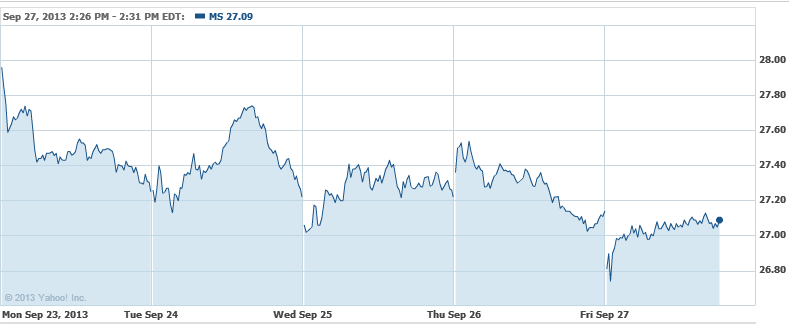 CME Group Inc. (NASDAQ:CME): Current price $74.89
The number-one futures exchange in the world has postponed the debut of its planned London-based market for a second time due to a "technical difficulty around the delivery of physical currencies." CME said that it is working with United Kingdom regulators to obtain recognition for the exchange, to be known as CME Europe, and offered no new start date for the venue, said a notice to customers obtained by Bloomberg News Friday. CME had said back in June that the venue would commence operations on September 9, and then earlier this month it pushed back the date to September 29. Nasdaq OMX Group Inc.'s new European derivatives market, NLX, opened on May 31. CME's London operation will also rival Deutsche Boerse AG Eurex and NYSE Euronext's Liffe, which is the biggest derivatives venues on the Continent.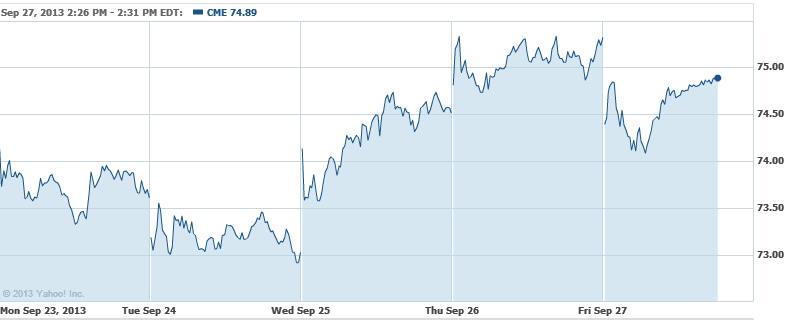 MetLife Inc. (NYSE:MET): Current price $47.21
On Friday, the Bank for Investment & Development of Vietnam and Bank for Investment and Development of Vietnam Insurance Corporation reached an agreement to establish a life insurance joint venture in Vietnam. The signing ceremony was witnessed by Prime Minister Nguyen Tan Dung, Chairman Tran Bac Ha of the board of management of BIDV, and Kurt Campbell, member of MetLife's board of directors and former assistant secretary of state, during the prime minister's visit to the United States.