4 Financial Stock Stories To Close Out the Trading Week
Discover Financial Services (NYSE:DFS): Current price $43.28
PayPal will move way beyond its Internet roots on April 19th, when a partnership with Discover Financial Services officially begins. The deal means that, by the end of 2013, PayPal will be accepted as a payment option in approximately 2 million retail stores that already take Discover credit cards. For parent eBay, PayPal's expansion is vital, as the 13-year-old payment service comprises around 40 percent of eBay's revenue, while its growth is slowing.
Are these stocks a buy or sell? Let us help you decide. Check out our Stock Picker Newsletter now.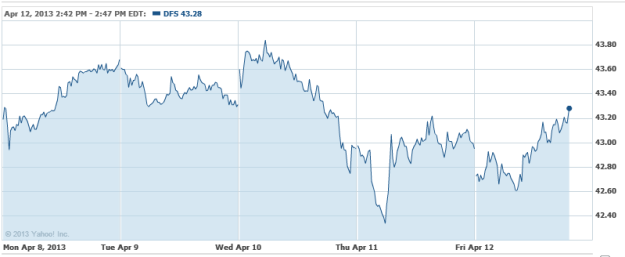 IntercontinentalExchange (NYSE:ICE): Current price $157.74
On Friday, the operator of world markets and clearing houses, reported the introduction of 35 new energy, environmental, freight and ferrous metal contracts on April 29th. The new contracts will be okayed at ICE Clear Europe, and are subject to the finalization of relevant regulatory processes, including global crude oil, gasoline, middle distillate, natural gas liquid, natural gas, power, environmental, freight and iron ore futures and options products. Counting the products announced Friday, ICE will offer in excess of 800 energy contracts.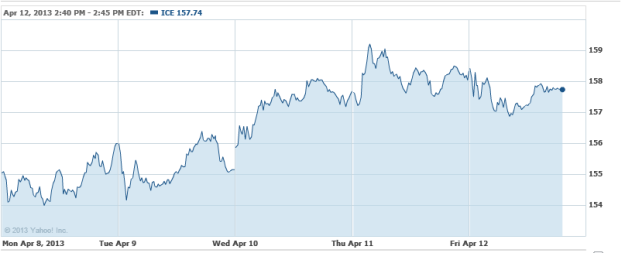 Wells Fargo & Co. (NYSE:WFC): Current price $37.09
Wells Fargo announced Friday that it is introducing a new banking store concept, the neighborhood bank format, which has been formed to deliver the kind of on-site banking experience that its customers have come to expect, but in a smaller format that permits the firm to offer store locations with personalized service, in settings that are not suitable for its larger stores. The new store format is roughly 1,000 square feet and offers a paperless, secure workflow along with wireless tech that helps the team give faster service; it will also use new large-screen ATMs. The first store utilizing the new design will open in the NoMa neighborhood of Washington, D.C. on April 15th.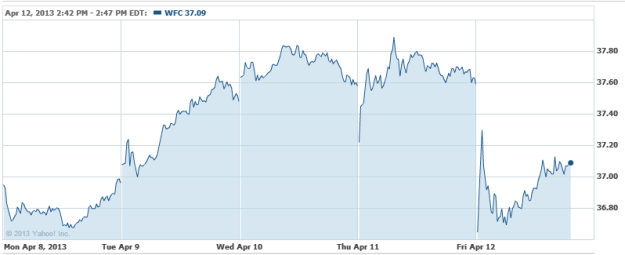 Bank of America Corporation (NYSE:BAC): Current price $12.14
Analysts at Wells Fargo are predicting that shareholders of the largest domestic banking conglomerates might demand breakups if valuations stay depressed. BofA is among a group of so-called universal banks which are trading at a 25 percent to 30 percent discount to their more-focused rivals, according to analysts led by Matthew H. Burnell in a research report Friday, noting that Goldman Sachs Group and Morgan Stanley, which concentrate on investment banking, trading and money management, stand within 8 percent of the estimated value of their parts.

Don't Miss: Bank of America Dodges "Worst Company in America" Title.