4 Financial Stock Stories to End a Tumultuous Trading Week
JPMorgan Chase & Co. (NYSE:JPM): Current price $52.35
It was said that Chief Executive Jamie Dimon showed a bit of disappointment Friday after his bank, having taken a $7.2 billion hit from penalties, an anticipated pile-on of future litigation and other legal worries, posted its first quarterly loss since 2004. The results are a blow to Dimon, who has for quite a while used the bank's reliable profit to push back on critics of its growing regulatory and legal problems. Employing unusually humble language for Dimon, he acknowledged that the first loss under his leadership is "very painful for me personally."

Wells Fargo & Co. (NYSE:WFC): Current price $41.27
In a Friday interview, Chief Financial Officer Tim Sloan said that Wells has sold an asset with a "punitive risk weighting" in the third quarter to help reinforce its capital ratio under new international standards. Sloan reported that the structured asset that the firm inherited from Wachovia Corp. was worth a "few billion dollars," adding that Wells Fargo sold the asset since the amount of capital required to back it was not worth the return.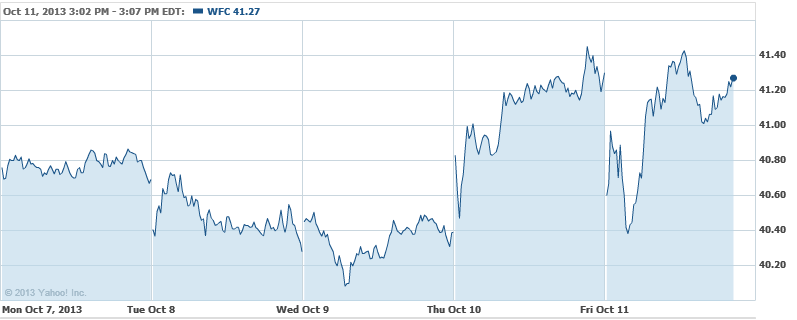 Kohlberg Kravis Roberts & Co. (NYSE:KKR): Current price $21.06
Two knowledgeable sources say that the private equity firm KKR will pay roughly $150 million for nearly 30 percent of India's Gland Pharma Ltd., in what would represent the buyout company's eighth investment in Asia in 2013. One person said that a deal will probably be announced in the coming weeks, but KKR India Chief Executive Sanjay Nayar would not respond, and Gland Pharma Vice Chairman Ravi Penmetsa was unavailable for comment.

American Express Co. (NYSE:AXP): Current price $75.08
American Express is working jointly with Alibaba Group Holding Ltd. to invest $206 million in tha retail website ShopRunner, providing the Chinese e-commerce firm a larger presence in the United States. ShopRunner, which is run by former Yahoo! Inc. Chief Executive Officer Scott Thompson, said that Alibaba led the funding round. The startup's supporters also include Kynetic.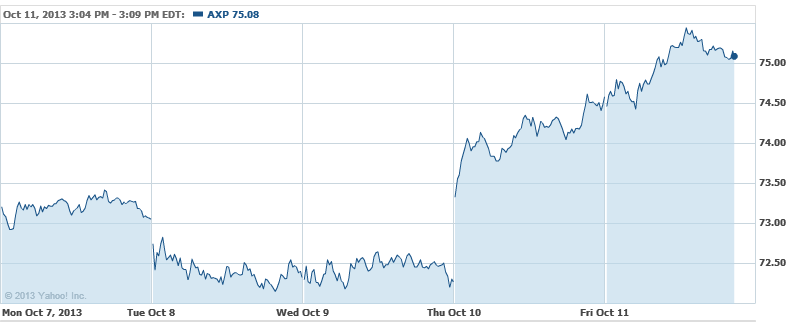 Don't Miss: IMF: Debt Levels Across the Globe Appear Stable.