4 Financial Stock Stories to Kick Off a Busy Trading Week
Wells Fargo & Co. (NYSE:WFC): Current price $41.77
Analyst Chris Kotowski at Oppenheimer says that Wells Fargo has posted 15 straight quarters of earnings growth, but that is a winning streak that can not last. On Friday, the lender reported better-than-anticipated earnings of $5.6 billion on revenue of $20.5 billion and bottom-line earnings surpassed estimates of $5.26 billion, but revenue was below estimates by $500 million, said Bloomberg data.
However, Kotowski wrote in a report on Friday that, "Investors should be prepared for a time when the continual upward progression of EPS just can't be maintained." Mortgage revenue took a deep blow in the quarter, as was expected, as increasing interest rates led to a plunge in refinancing volumes. Kotowski is dubious regarding the mortgage business, with its inherent volatility and low profitability, noting that, "There is a reason why the thrifts that used to own this business traded at 5X."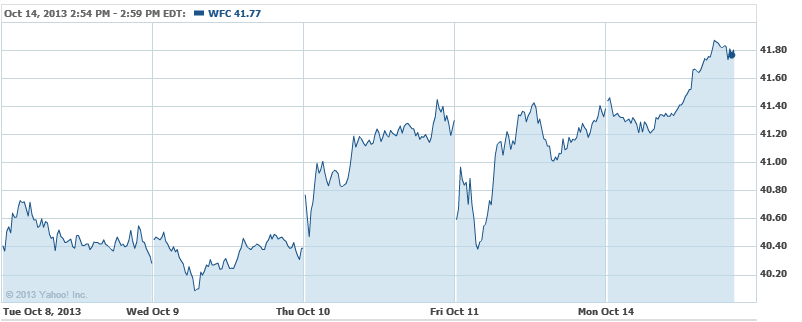 JPMorgan Chase & Co. (NYSE:JPM): Current price $52.66
JPMorgan board member Laban P. Jackson said that Chief Executive Jamie Dimon deserves shareholders' backing even though soaring legal costs helped the first quarterly loss of his tenure to occur. On Sunday at the National Association of Corporate Directors' annual conference in Oxon Hill, Maryland, Jackson remarked that, "He's the best manager I've ever seen, and I'm old. He has, as we all do, flaws."
In September, the big bank agreed to pay $920 million in penalties to resolve probes of a multibillion-dollar trading loss, one of several headaches that forced the lender to reserve $28 billion for legal costs since early 2010. Jackson, who heads the audit committee, maintains that the debacle was caused by a group of "renegades" inside the chief investment office who imagined they had found the perfect trade.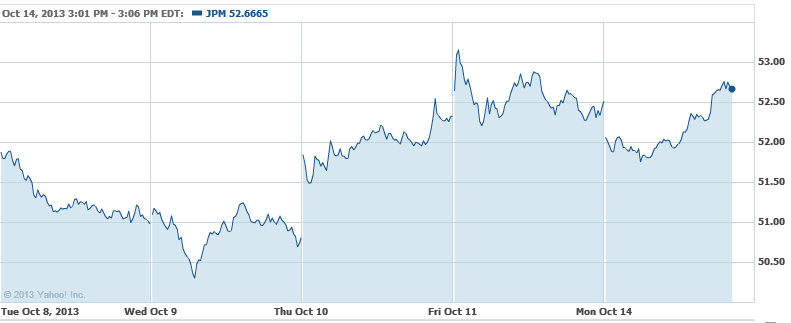 The ADT Corp. (NYSE:ADT): Current price $39.90
On Monday, ADT said that Michael Geltzeiler will come to the company as its chief financial officer. Presently, Geltzeiler is the chief financial officer and group executive vice president at NYSE Euronext. He will Report directly to ADT Chief Executive Officer Naren Gursahaney and will be responsible for leading the corporation's financial strategy to help drive profitable business growth and create value for shareholders.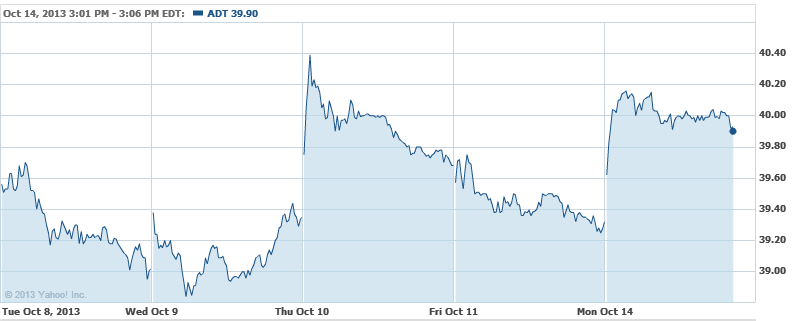 Discover Financial Services (NYSE: DFS): Current price $52.62
Deutsche Bank has begun coverage on Discover Financial with a Buy and a price target at $62. Analyst David Ho observed in part that, "Discover is a compelling growth story within financials over the next consumer leveraging cycle, in our view. We expect above average loan growth in both a sluggish macro environment and as consumer loan demand accelerates. This will translate into positive EPS revisions over time from likely better than expected NIM trends, benign credit costs, meaningful excess capital, and high-margin payment assets. The valuation is attractive given higher returns and asset growth." Shares are up around 2 percent Monday.

Don't Miss: 5 Major Effects of the Government Shutdown.