4 Financial Stock Stories to Kick Off the New Trading Week
Morgan Stanley (NYSE:MS): Current price $29.29
During an interview with Erik Schatzker on Bloomberg Television, Morgan Stanley Chief Executive James Gorman said that he believes Twitter. will get a "cleaner" initial public offering than Facebook did. Gorman commented that, "We'd like a cleaner opening. For the market's integrity, transparency that would be a very good thing. I think we'll get one." In May 2012, Morgan Stanley led Facebook's well known IPO and is now one of the underwriters of Twitter, which is poised to begin trading on the New York Stock Exchange next week.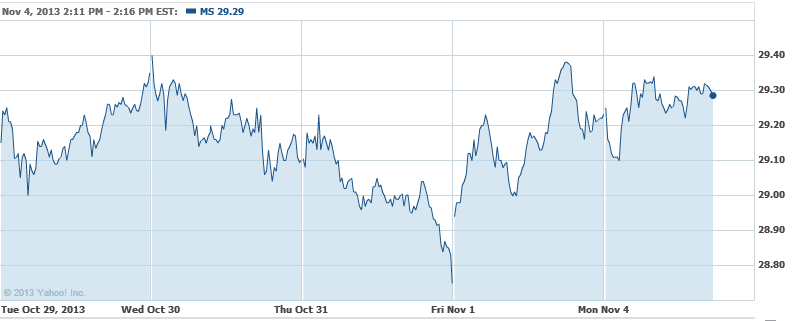 MasterCard Inc. (NYSE:MA): Current price $729.63
On Monday, MasterCard introduced the MasterCard Center for Inclusive Growth. The Center will conduct and back academic research and supply strategic philanthropic investments that foster sustainable and equitable economic growth and financial inclusion on a global basis. Vice Chair Walt MacNee observed that, "MasterCard is launching the Center to provide a focus on delivering the  research and philanthropic investments necessary to advance inclusive growth. With more people from more  countries participating in the global economy than even before, MasterCard believes that inclusive growth is key for economic and social progress."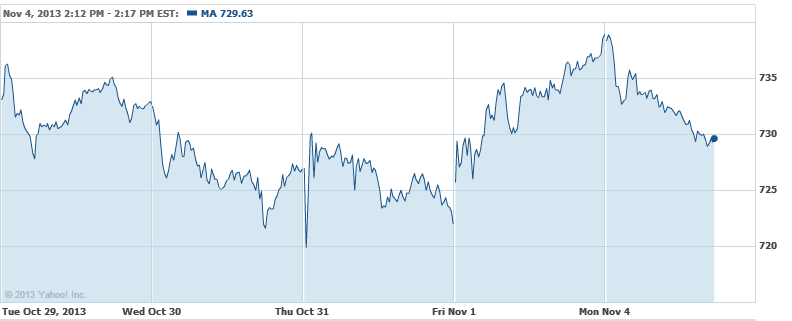 Credit Suisse Group AG (NYSE:CS): Current price $28.80
Politicians in Switzerland are acting to constrain that country's banking giants, such as Credit Suisse and UBS, with new restrictions that might be more severe than those in place in other countries. The lawmakers are examining the banks' balance sheets, and seem fearful that their already strict banking regulations are insufficient to guard them from the impacts of a potential failure, according to the Wall Street Journal.

XL Group Plc. (NYSE:XL): Current price $30.47
The talent competition between XL Group and American International Group Inc. took another turn, as the former recruited David Miller to become senior vice president and chief of claims for international property and casualty coverage. Miller comes from AIG, and will be based in London, reporting to Andrew Pinkes, world head of claims for insurance operations, said a Monday company statement. Spokesperson Sinead Finlay said Monday that Miller replaces Graham Lambourne, who has exited the company.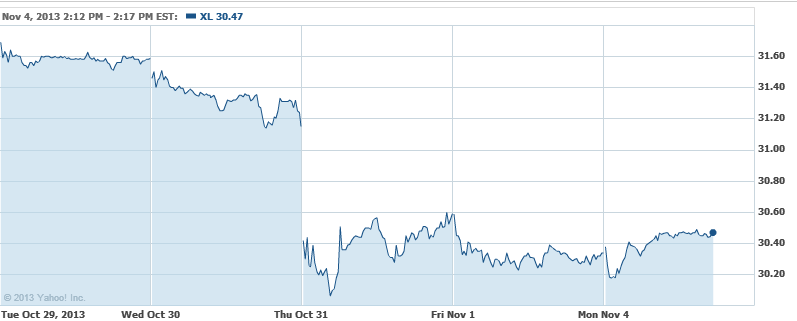 Don't Miss: JPMorgan's Regulatory Hole Deepens With Expansion of Hiring Probe.