4 Financial Stock Stories To Kick Off the New Trading Week
Deutsche Bank (NYSE:DB): Current price $47.90
A knowledgeable source reports that Deutsche Bank has arranged a $200-million credit facility for Apollo Global Management (NASDAQ:APO) to purchase single-family rental homes in the United States. The loan will permit Apollo to buy, renovate and rent the properties, according to the person. The credit line is at a minimum the third by Deutsche Bank to money managers who want to exploit the recovering housing market. Private-equity firms have been among the largest buyers of foreclosed and distressed homes across the country to turn into rentals.
Are these stocks a buy or sell? Let us help you decide.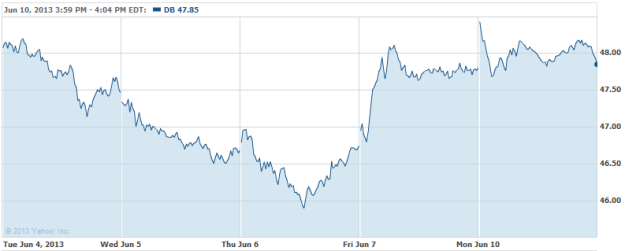 Wells Fargo & Co. (NYSE:WFC): Current price $41.27
On Monday, Wells Fargo said that it provided $6.4 billion in loans and investments last year to businesses and projects having a direct positive impact on the environment. This represents the bank's first environmental financing update since it reported in 2012 an expanded commitment to supply an additional $30 billion by 2020. Wells Fargo began its environmental financing commitment in 2005, and through 2011 the company made $11.7 billion in loans and investments and in excess of $3.1 billion in additional financial services. With the current record announcement of $6.4 billion, the firm has financed over $21 billion for green businesses, green buildings, and clean energy customers since 2005.
Are these stocks a buy or sell? Let us help you decide.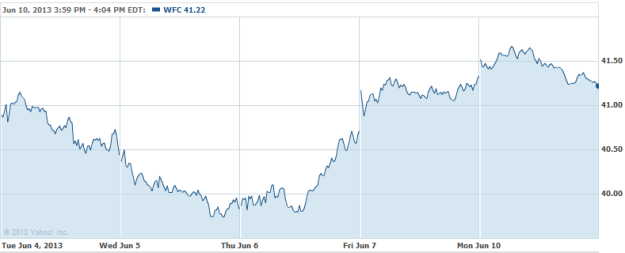 Morgan Stanley (NYSE:MS): Current price $27.15
The owner of the number-one brokerage in the world promoted Jim Bonetti to lead its United States-leveraged finance syndicate team, according to two inside sources, who elaborated that Bonetti will report to the chief of acquisition and leveraged finance Dan Toscano. Leveraged lending aids borrowers and buyout firms in the use of  high-yield debt to support purchases, dividend deals and refinancings. This technique has gained traction while investors search out yield amid low interest rates, together with new-issue leveraged loans jumping by 59 percent in 2013 as of May 22nd. Morgan Stanley ranks number nine in the field among underwriters, said data compiled by Bloomberg.
Are these stocks a buy or sell? Let us help you decide.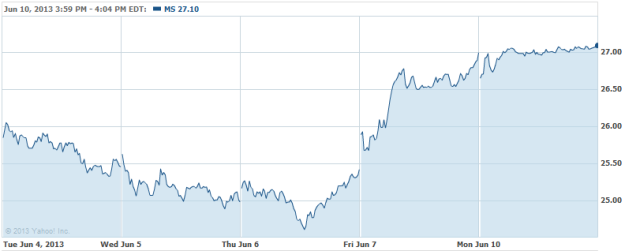 UBS (NYSE:UBS): Current price $18.03
UBS was chosen the top Pan European Equity house for a record tenth straight year, by the Thomson Reuters Extel Survey, which also ranked UBS number one in the equity trading and execution category for the fourth year in a row. In 2013, UBS has also been ranked the highest in Fixed Income and FX technical analysis, and made notable progress in the growth areas of Emerging EMEA and Global Emerging Markets equity research.
Are these stocks a buy or sell? Let us help you decide. Check out our Stock Picker Newsletter now.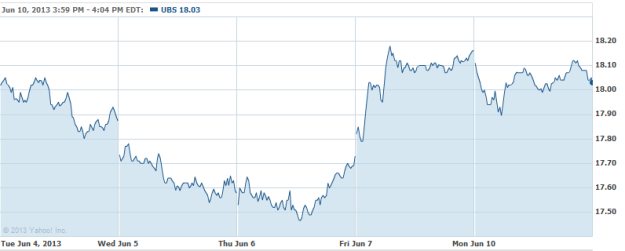 Don't Miss: 5 Ways Regulators Are Killing 'Too Big To Fail'