4 Financial Stock Stories to Kick Off the Trading Week
Goldman Sachs Group Inc. (NYSE:GS): Current price $153.56
Francesco Garzarelli, co-chief of world macro markets research at Goldman Sachs, appears to becoming less pessimistic regarding the Treasury market following a sharp selloff, now suggesting that investors adopt a neutral stance on Treasury bonds for the third quarter, marking a shift from the second quarter, when the bank put negative bets on Treasury prices. The comments by Garzarelli were contained in a note sent out on Sunday to clients.
Are these stocks a buy or sell? Let us help you decide. Check out our Stock Picker Newsletter now.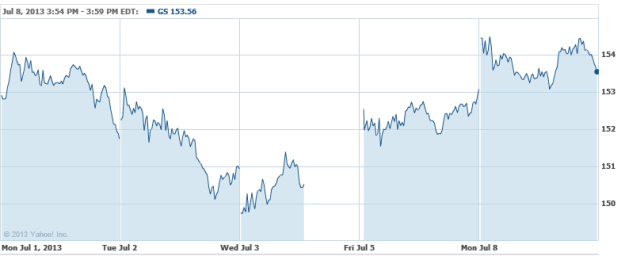 ING Groep NV (NYSE:ING): Current price $9.50
On Monday, ING said that it will divest its 50-percent interest in its Chinese insurance joint venture ING-BOB Life Insurance Co. to BNP Paribas Cardif, the insurance division of BNP Paribas. The transaction should not have a material impact on ING results. The transaction forms part of ING's earlier reported process to sell ING's insurance and investment management arms. Monday's announcement does not impact ING Bank's 13.7 percent stake in Bank of Beijing, nor does it affect ING's Commercial Banking activities in China.
Are these stocks a buy or sell? Let us help you decide. Check out our Stock Picker Newsletter now.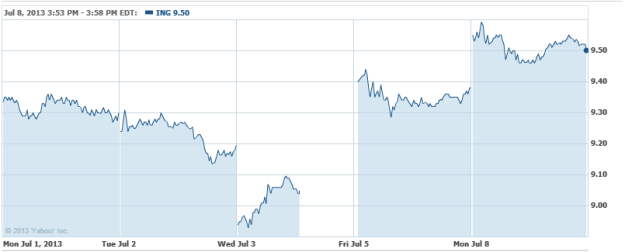 New Residential Investment Corp. (NYSE:NRZ): Current price $6.74
New residential said it finalized an additional closing of excess mortgage servicing rights that it agreed to purchase as part of the previously reported transaction between Nationstar Mortgage and Bank of America. This closing is linked with loans held in private label securitizations with an unpaid principal balance of $43 billion, which makes up roughly 45 percent of the total PLS UPB associated with the transaction. New Residential invested around $53 million to buy the right to receive one-third of the monthly cash flow brought by the mortgage servicing rights, the net of a basic fee paid to Nationstar.

American Realty Capital Properties
(
NASDAQ:ARCP
): Current price $14.19
The company reaffirmed on Monday its intention to close its previously reported merger with CapLease in the third quarter. The latter's recent filing of its preliminary proxy statement connected with its special meeting, at which stockholders will vote whether to okay the merger. The expiration of the 40-day waiting period provides ARCP with a finite timetable for the closing of the CapLease acquisition.