4 Financial Stock Stories to Spark Investor Interest
The Blackstone Group (NYSE:BX): Current price $18.58
Blackstone, the alternative asset manager, has discretely obtained a securities underwriting license while its expanding capital markets operation moves into investment banking. This move represents the most recent phase in the transformation of large listed private equity groups becoming more broadly based alternative asset managers.
Are these stocks a buy or sell? Let us help you decide. Check out our Stock Picker Newsletter now.

JPMorgan Chase & Co. (NYSE:JPM): Current price $47.65
At the moment, Chief Executive Jamie Dimon is not that unhappy with how Dodd-Frank is working out — for his bank, anyway. Dimon sees the new set of rules – higher capital rules, Volcker, and OTC derivative reforms longer-term – as helping out the big banks by causing the cost of regulatory compliance to be  so expensive that smaller rivals are unable to compete. JPMorgan's margins might shrink a bit, but at the same time, its market share increases as the smaller rivals just can't hack it. His advice to them is simply, "Grow."

Barclays (NYSE:BCS): Current price $18.31
On Sunday, the bank announced that its Chief Financial Officer, Christopher G. Lucas, and its General Counsel, Mark Harding, are stepping down upon replacement, marking the latest exits following the firm's involvement in a number of scandals including an inquiry into the manipulation of world interest rates. Just how Barclays raised capital from a Qatari fund during the financial crisis is the latest question that is bound to be probed, and Lucas is likely to be questioned.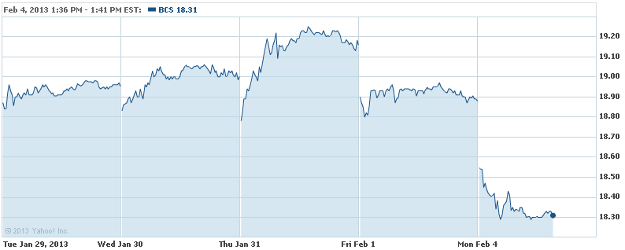 Bank of America Corporation (NYSE:BAC): Current price $11.53
BofA has had plenty of time to regret its purchase of the subprime mortgage lender Countrywide Financial back in 2008, and the residuals keep on coming on. Thus far, the giant bank has set in reserves around $40 billion through which to resolve claims of mortgage misconduct which occurred when Countryside was on its own. However, new documents filed in state Supreme Court in Manhattan late on Friday allege that a proposed $8.5 billion resolution that Bank of America reached in 2011 to settle claims over Countrywide's mortgage abuses is far too low and deprives thousands of ordinary investors of the relief they deserve. The documents were submitted by three Federal Home Loan Banks in Boston, Chicago and Indianapolis and also Triaxx, an investment vehicle that bought mortgage securities.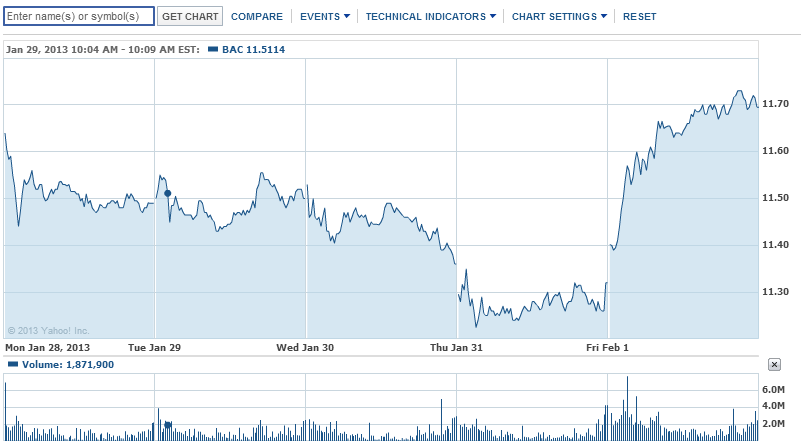 Don't Miss: Here's Bank of America's $40 Billion Backpack.