4 Financial Stock Stories to Start the New Trading Week
American International Group Inc. (NYSE:AIG): Current price $49.03
AIG's mortgage insurer, United Guaranty, whose number-one competitor is the Federal Housing Administration, is attempting to entice borrowers with the hope that they will avoid delays arising from the partial government shutdown. The division has sent a message to clients emphasizing its willingness to accept paperwork that had been prepared for the Federal Housing Administration.
Spokesperson Jo Fleischer remarked in a Monday email that, "In light of the federal shutdown and the inability of FHA to do business as usual, United Guaranty is reminding our customers that we are a resource. We can underwrite any FHA submission with existing full documentation, and typically get our customer a decision within 24 hours."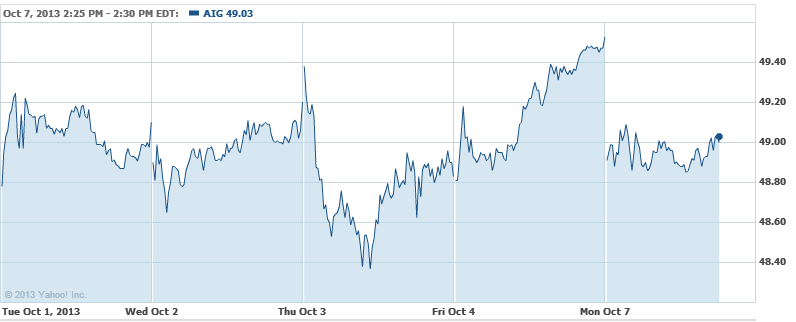 The Charles Schwab Corp. (NYSE:SCHW): Current price $21.22
Charles Schwab is delaying the much-anticipated debut of its 401-K retirement plan that will utilize ETFs, three years after making the initial announcement at an asset management conference in March 2011. The company announced earlier in 2013 that it planned to intro an ETF retirement plan at the end of this year, said the delay was indefinite, bringing new doubts to a series of delays that has led to rumors that the company might be having difficulty getting past basic tech problems. Vice President Dave Gray of 401-K client experience at Charles Schwab said that, "At this point, we're not committing to a particular time, whether it'll be at the end of this year or otherwise."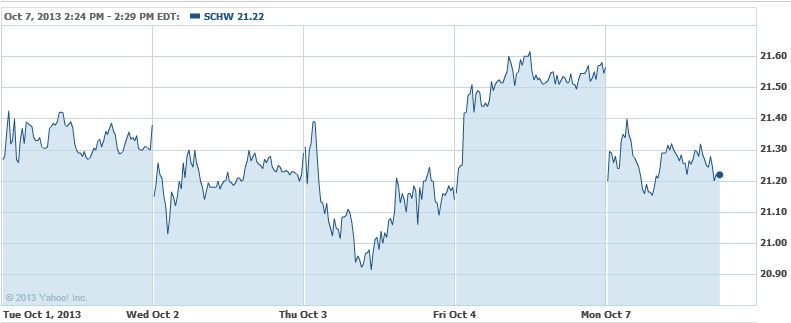 Wells Fargo & Co. (NYSE:WFC): Current price $40.78
Investment professionals representing Wells Fargo Advantage Funds are scheduled to present at a national conference for retirement plan specialists. The Center for Due Diligence 2013 Advisor Conference, to be held Monday through Wednesday in San Antonio, will center upon "Identifying and managing retirement plan risk: Successful strategies for advisors, sponsors and participants." Portfolio manager Jim Lauder will talk about the controllable and non-controllable dynamics that may negatively impact a potentially successful retirement investing outcome. Additionally, he will examine investor behavior, along with the dangers of pursuing strong returns and not remaining invested through full-market cycles.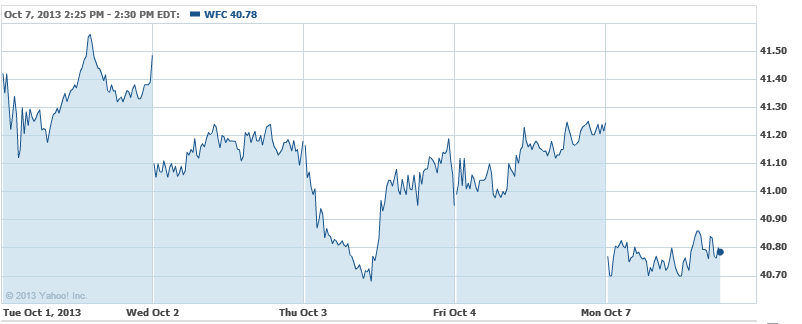 Gramercy Property Trust Inc. (NYSE:GPT): Current price $4.38
On Monday, the real estate investment trust reported that together with its $47.4-million equity raise, it has an identified $130-million investment pipeline. Additionally, Gramercy intends to resume timely payments of dividends on its Series A cumulative redeemable referred stock, commencing with the dividend due for the fourth quarter.

Don't Miss: Tea Party and the Shutdown: What's the Plan?