4 Financial Stock Stories to Start the Week
JPMorgan Chase & Co. (NYSE:JPM) Current price $45.88
The firm's board is mulling the release of an internal report this week that faults Chief Executive Jamie Dimon's management of a division that lost more in excess of $6.2 billion on botched trades, according to knowledgeable sources. A preliminary report was released in July and the final one takes the matter farther, blaming senior managers such as Dimon, the former Chief Financial Officer Doug Braunstein, and ex-Chief Investment Officer Ina Drew for inadequately supervising traders in a United Kingdom division that built up an illiquid position in credit derivatives in 2012. Although the paper is not yet complete, it will be presented to the board on Monday and then the members vote as to whether to disclose it when the bank announces fourth-quarter results the on following day, say the sources.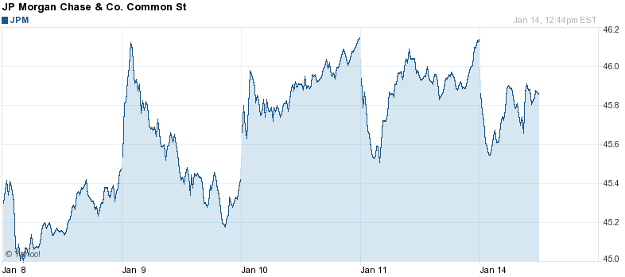 Are these stocks a buy or sell? Let us help you decide. Check out our Stock Picker Newsletter now.
KeyCorp (NYSE:KEY): Current price $8.86
KeyCorp, based in Cleveland with $87 billion in assets, had a tough time  during the financial crisis when inadequate loan-underwriting standards were exposed. The company obtained $2.5 billion in government-bailout money and took net loan charge-offs of $2.3 billion in 2009 and $1.6 billion the next year. Nowadays, the bank's strategy is more like, "strengthen the balance sheet, then grow more profitably," and analyst Maclovio Pina at Morningstar believes that the 187-year-old company is ready for serious growth, saying that Key has "resilient earnings power without any visible obstacle." Pina estimates the fair value of the shares $10, which is above the current price of $8.94. Meanwhile Terry McEvoy at Oppenheimer upgraded the stock to Outperform, saying that the strategy "should create a less-volatile, lower-risk revenue stream."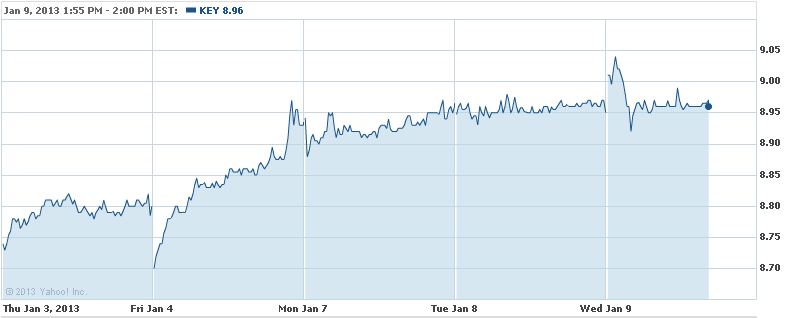 American International Group (NYSE:AIG): Current price $34.87
Maiden Lane II, a Federal Reserve vehicle that was formed during AIG's bailout to hold a portion of its troubled mortgage bonds, has been sued by the company in a dispute regarding the rights to sue over the bonds. The problem is that Maiden Lane sold the AIG securities that were transferred to it in order to recoup part of the huge AIG bailout that was fully paid off in 2012. Now, the question is whether AIG, in selling billions of dollars in troubled mortgage bonds to the New York Fed in late 2008, lost its rights to sue for losses it incurred on the securities.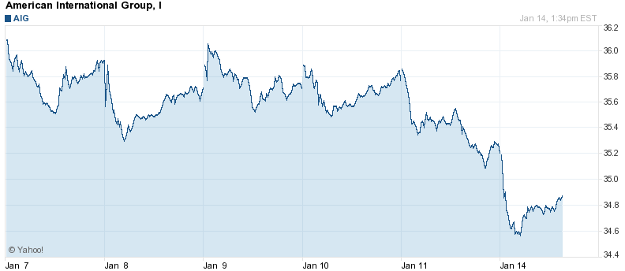 UBS (NYSE:UBS): Current price $17.38
Some former executives of UBS now concede that the company might have been rigging Libor rates for "years," according to Independent. The former Chief executive Marcel Rohner and other managers have been charged with "incompetence and gross negligence" by members of the Parliamentary Commission on Banking Standards for failing to detect what they admitted was "stealing on a grand scale".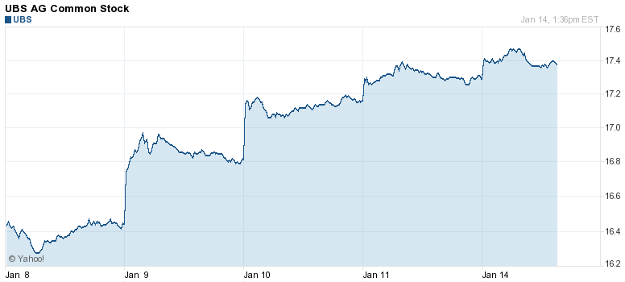 Investing Insights: Are You Ready for These 5 Banks to Report Earnings?