4 Financial Stock Stories To Take To The Bank
Wells Fargo & Co. (NYSE:WFC): Current price $37.11
The company's request to dismiss a lawsuit brought by investors who said it failed in its role as trustee for debt issued by a financing company which went under in 2009, was turned down by United States District Judge David Carter in Santa Ana, California. In a decision filling 50 pages, the judge made the way for a possible trial against the fourth-largest U.S. bank regarding its dealings with Medical Capital Holdings. Carter also ruled outright for the investors on certain claims in the class action, and dismissed other claims against Wells Fargo.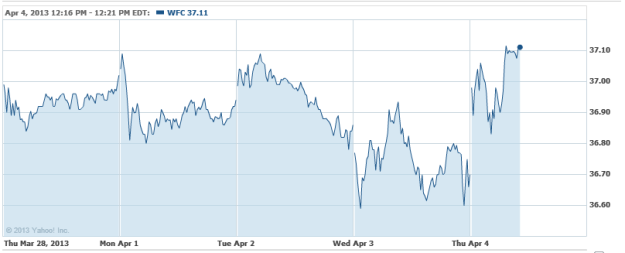 JPMorgan Chase & Co. (NYSE:JPM): Current price $47.19
J.P. Morgan saw the dismissal of almost the entirety of a lawsuit claiming that it misled the Belgian-French bank Dexia into buying over $1.6 billion worth of troubled mortgage debt. United States District Judge Jed Rakoff in Manhattan on Wednesday made public his ruling that is a victory for the largest domestic bank and Chief Executive Jamie Dimon, removing some 99 percent of the potential damages. Dexia's case gained notoriety after emails and other materials were divulged that suggested the bank and its affiliates knew the residential mortgage-backed securities they were selling were toxic, but sold them regardless. Judge Rakoff said that he would explain the reasons for his decision "in due course."
Are these stocks a buy or sell? Let us help you decide. Check out our Stock Picker Newsletter now.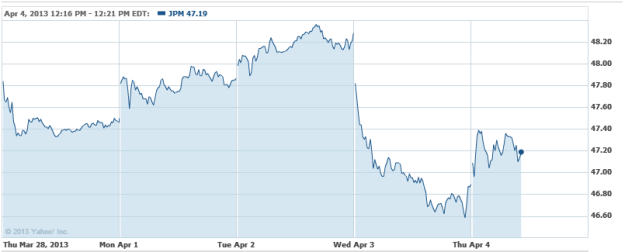 Goldman Sachs Group (NYSE:GS): Current price $143.01
President and Chief Operating Officer Gary Cohn said on Wednesday that Goldman intends to grow the base of corporate clients it covers in Brazil by 50 percent in 2013, as demand for corporate loans, structured finance and advisory services increases in Latin America's largest economy. The Wall Street company expects to serve about 300 companies by December, about 100 more than it does currently, according to Cohn at a news conference in São Paulo. During the past year, Goldman Sachs has doubled the capital base of its Brazilian division and hired aggressively to expand in the country to compete with tough local rivals, while rivalry from international financial firms slows.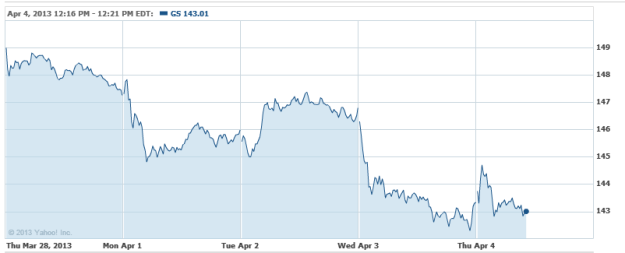 Barclays Bank (NYSE:BCS): Current price $17.30
The bank announced that following the close on April 12, there will be no changes to the constituents in the Atlantic Trust Select MLP Index. Barclays ETN+ Select MLP Exchange Traded Note is connected with the performance of the volume-weighted average price of the Index. The ETN was listed on the NYSE Arca stock exchange in March, under the ticker symbol ATMP. In compliance with the Index methodology as described in the prospectus relating to the ETN, the Index is rebalanced quarterly. The 23 constituents of the Index will be rebalanced on a capped, float-adjusted, capitalization-weighted basis throughout four index business days beginning on Friday, April 12.
Are these stocks a buy or sell? Let us help you decide. Check out our Stock Picker Newsletter now.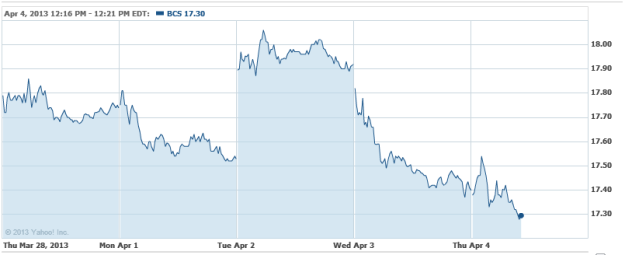 Don't Miss: Did The Sequester Have a Hand in This Quarter's Planned Layoffs?