4 Financial Stock Stories to Take to the Bank
Citigroup (NYSE:C): Current price $46.54
Citi should now rank among the top beneficiaries of a rise in housing prices, according to KBW analysts in a report released on Monday. The bank's mortgage loans comprise under 7 percent of its assets, which is far less than most of its major rivals. KBW estimates that mortgage loans make up 23 percent of total assets for Wells Fargo, followed by US Bancorp with 18 percent, Bank of America, PNC Financial with about 17 percent each, and JPMorgan Chase with 7.3. However, next to Bank of America, Citi could have the largest earnings upside coming from rising home prices, said the analysts, who added that this would place it in line with healthier mortgage banks like Wells Fargo and PNC.

MBIA (NYSE:MBI): Current price $9.23
MBIA lost a pretrial decision against Bank of America Corp.'s Countrywide Financial unit in a lawsuit alleging that the latter breached its obligations to buy back loans. New York State Supreme Court Justice Eileen Bransten in Manhattan turned aside the bond insurer MBIA's contention that it had already shown that Countrywide should have to repurchase loans it claims were riskier than was represented. MBIA is the guarantor of payments to investors who purchased securities backed by pools of Countrywide's loans. However, Bransten said there are "sufficient facts in dispute" regarding the loans to preclude ruling in MBIA's favor at this point.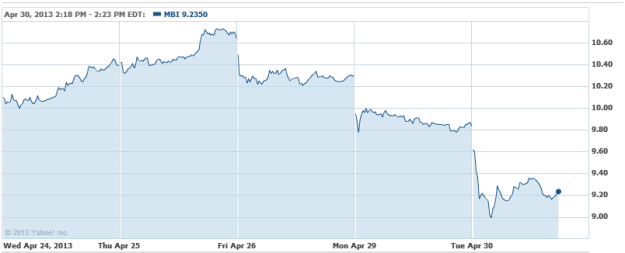 New York Mortgage Trust (NASDAQ:NYMT): Current price $7.10
The firm plans to make a public offering of 13.6 million shares of its common stock, and  also expects to allow the underwriters an option to buy up to an additional 2.04 million shares. Deutsche Bank Securities and Credit Suisse will serve as joint bookrunners. NYMT intends to initially use the net proceeds to purchase primarily Agency RMBS (including Agency interest only securities) and some of its other targeted assets.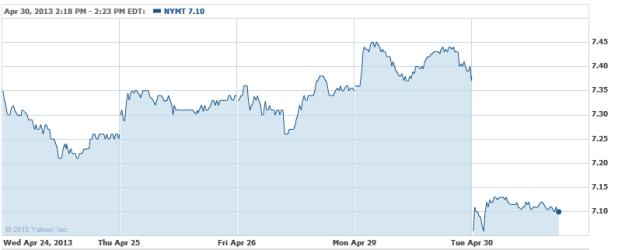 MasterCard Incorporated (NYSE:MA): Current price $546.38
Comerica Bank and MasterCard commemorated Financial Literacy Month by adding PayPerks as a complimentary financial education and rewards platform for all Direct Express Debit MasterCard cardholders. PayPerks has been modified to enable Direct Express cardholders to use their cards in manners that maximize convenience and security, while concurrently minimizing fees. Additionally, the curriculum addresses general financial topics, like how to establish a savings plan and to manage a household budget.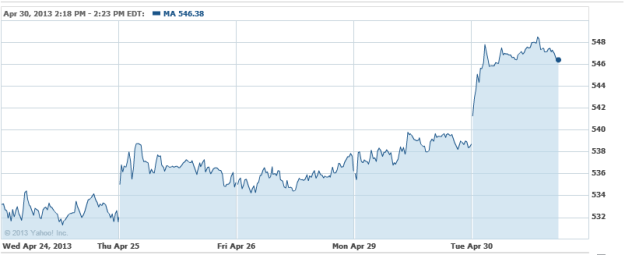 Don't Miss: Is Obama Still the Best Gun Salesman Ever?