4 Financial Stock Stories to Take To The Bank
The Royal Bank of Scotland Group (NYSE:RBS): Closing price $10.64
After political pressure to target someone prominent, the chief of the firm's investment bank will forfeit some £4 million in past share awards for the group's involvement in the worldwide Libor-rigging scandal. Sky News reported Tuesday that John Hourican, who was recruited to rescue the company after it was bailed out by British taxpayers in 2008, will surrender the share options awarded to him based on past performance. However, he will receive a year's salary in lieu of notice, worth about £700,000. Hourican will leave the bank at the end of February, having managed a massive winding-down of RBS's investment banking operation during the last four-and-one-half years.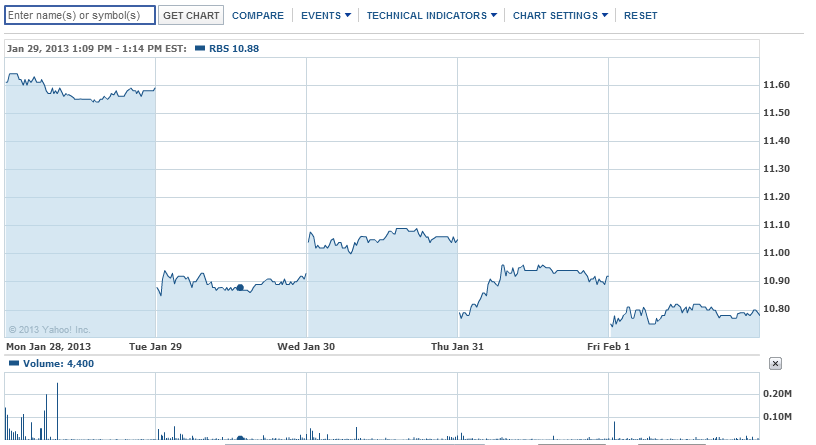 Are these stocks a buy or sell? Let us help you decide. Check out our Stock Picker Newsletter now.
McGraw-Hill Companies (NYSE:MHP): Closing price $44.94
On Tuesday, Attorney General Holder announced a lawsuit against Standard & Poor's and its parent company McGraw-Hill. The charges accuse S&P of defrauding investors in residential mortgage-backed securities and collateralized debt obligations of more than$5 billion. The lawsuit by the Justice Department was brought under the Financial Institutions Reform, Recovery, and Enforcement Act of 1989, which gives the Justice Department the power to seek civil penalties corresponding to the losses suffered by federally insured financial institutions.

TICC Capital Corp. (NASDAQ:TICC): Closing price $10.63
TICC announced Tuesday that it has begun a public offering of 3 million shares of its common stock. Regarding the proposed offering, the firm will grant the underwriters for the offering an option through which to buy as many as 450,000 additional shares . Barclays Capital will serve as the sole book-running manager for the offering.

American International Group (NYSE:AIG): Closing price $38.76
The consumer-lending joint venture of private-equity firm Fortress Investment Group (NYSE:FIG) and the insurer American International Group is developing a rare securitization of subprime personal loans as soon as this week, in the latest example of risk appetite for asset-backed bonds, where increasing demand has pushed yields to record lows. The $604 million issue from the consumer lender Springleaf Financial will bundle together approximately $662 million of loans secured by assets like boats, cars, furniture and jewelry into ABS, according to a term sheet.

Don't Miss: Will 2013 Be a Boon for Banks?