4 Financial Stock Stories to Take To The Bank
BlackRock (NYSE:BLK): Current price $239.95
The biggest manager of exchange-traded funds, BlackRock, reported on Monday that  it is reviewing the terms of its contracts with index providers, but also said that no changes were "imminent." The comment was made by the firm's worldwide chief of its iShares ETF division, Mark Wiedman, while speaking at the Index Universe Inside ETFs conference in Hollywood, Florida. His remarks were first reported by the financial weekly Barron's.
Are these stocks a buy or sell? Let us help you decide. Check out our Stock Picker Newsletter now.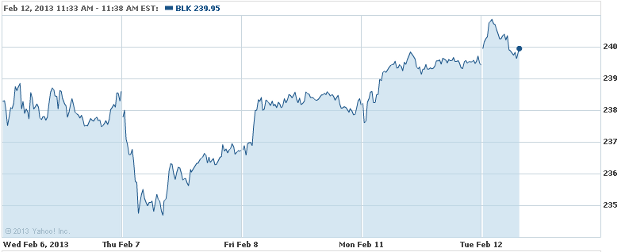 American Capital Mortgage Investment Corp. (NASDAQ:MTGE): Current price $25.72
The firm announced Monday that it will make a public offering of 18 million shares of its common stock. In conjunction with the offering, underwriters will have an option for 30 days to buy up to an additional 2.7 million shares. Net proceeds from this offering will be used to invest in its targeted assets, among which include agency mortgage investments, non-agency mortgage investments and other mortgage-related investments.

Discover Financial Services (NYSE:DFS): Current price $39.76
Discover President Roger Hochschild said at an investor conference in New York, that rising federal student-loan debt and potential modifications to how the loans are treated under bankruptcy might be a "train wreck" for American taxpayers. However, Hochschild defended his firm's move into the student lending market, emphasizing that it adheres to high underwriting standards when approving loan applicants, but he did accuse the federal government, which now controls most student lending, of lax underwriting.

Newcastle Investment Corp. (NYSE:NCT): Current price $10.74
The firm will make a public offering of 20 million shares of its common stock and will also grant the underwriters an option for 30 days in which to acquire up to an additional 3 million shares. Net proceeds will be used for general corporate purposes, including to make an array of investments, which could include, but is not limited to, investments in consumer loans, real estate securities, real estate related loans, senior living assets, residential loans, corporate loans, excess mortgage servicing rights and operating real estate.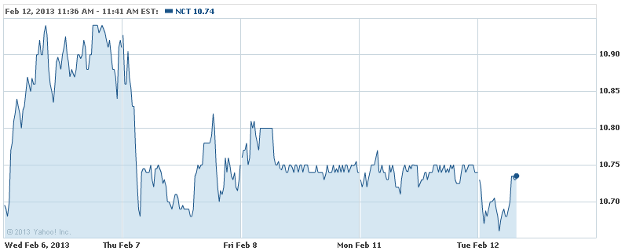 Don't Miss: How Cash-Strapped are Americans?