4 Financial Stock Stories To Take to the Bank
Banco Santander (NYSE:SAN): Current price $7.97
Last month, Spanish banks again reduced their dependence on funding from the European Central Bank, reaffirming a recent trend indicating that more lenders are searching out private buyers for their debt during an easing of tensions in euro zone markets. The Bank of Spain has published numbers that show net borrowing from the ECB dropping for a fifth consecutive month to €298.7 billion, down from €313.1 billion in December. Banks in Spain became dependant upon central bank financing in 2012 as the international markets virtually shut down to Spanish debtors due to worries that the country's fast-rising debt load was becoming unsustainable.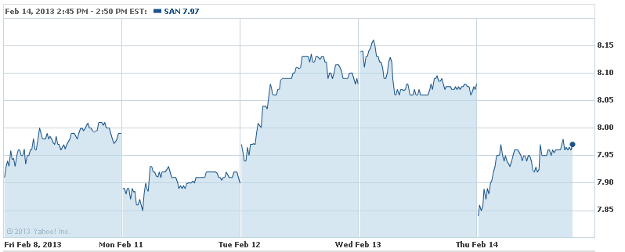 The Charles Schwab Corporation (NYSE:SCHW): Current price $16.85
The company released its January Monthly Market Activity Report on Thursday. Highlights for the month include net new assets generated by new and existing clients totaled $12.1 billion, along with a $2.2 billion-inflow linked with a mutual fund clearing services client. Total client assets stood at a record $2.01 trillion as of month-end, a figure which was up by 16 percent year-over-year from 2012 and up 3 percent over December. Client daily average trades were 504,700, an increase of 8 percent year-over-year and up 5 percent when compared to December.
Are these stocks a buy or sell? Let us help you decide. Check out our Stock Picker Newsletter now.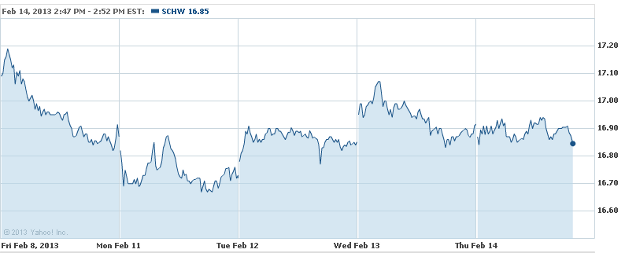 Goldman Sachs Group (NYSE:GS): Current price $155.97
Chief Executive Lloyd C. Blankfein said he has no intentions of exit the firm, according to Bloomberg, commenting that, "The combination of this being who I am and what I do and having absolutely no other interests makes me think this is what I'll be doing for a while." Two former Goldman Sachs chief executives, Henry Paulson and Robert Rubin, served as United States Treasury Secretaries after leaving the company. Blankfein remarked while he would love to be asked to play a role, "that seems like such a distant hypothetical."

Morningstar (NASDAQ:MORN): Closing price $69.17
Morningstar has reported its estimated United States mutual fund asset flows through January. Investors contributed $86.5 billion to long-term open-end mutual funds in January, and 72 of 93 open-end categories recorded inflows. Along with inflows of $28.6 billion for exchange-traded funds, it was easily the biggest one-month inflow on record. All asset classes and each of the top-10 open-end fund providers experienced long-term fund inflows.

Don't Miss: Are Central Banks Still In Love With Gold?