4 Financial Stock Stories To Take to the Bank
JPMorgan Chase & Co. (NYSE:JPM) Closing price $46.15
JPMorgan, the biggest domestic bank, will compensate borrowers with $2 billion in mortgage relief and direct cash payments, to resolve home-loan abuse allegations by regulators. More specifically, the firm will make a cash payment amounting to $753 million and reserve $1.2 billion towards foreclosure prevention efforts as part of an $8.5 billion accord with 10 banks and their regulators that was announced on Monday, according to a Thursday regulatory filing.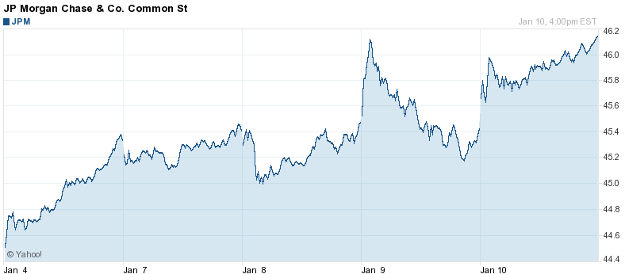 American International Group (NYSE:AIG): Closing price $35.80
Even though AIG refused to go along with a lawsuit brought by Hank Greenberg and his firm, Starr International, against the United States government, Greenberg's attorney said on CNBC Thursday that his client does not intend to sue the insurer AIG. Not only will the company not join the suit, it will not allow Greenberg to pursue claims on its behalf. The former AIG executive Greenberg claims that the government bailout of the company included unfair terms, but the lawsuit has quickly become toxic in terms of public opinion.
Are these stocks a buy or sell? Let us help you decide. Check out our Wall St. Cheat Sheet Stock Picker Newsletter now >>
Bank of America Corporation (NYSE:BAC): Closing price $11.78
The bank will divest 24 of its branches in South Bend and Elkhart and in southwestern Michigan to Indiana's Old National Bank. The branches hold $779 million in deposits; no purchase price were divulged.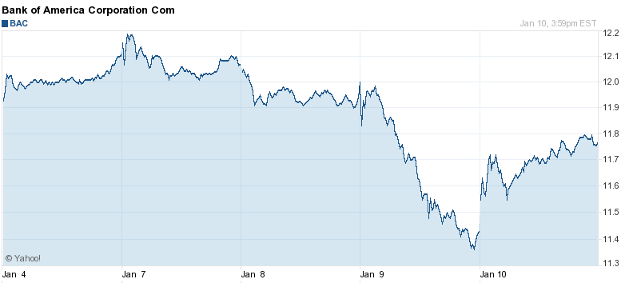 Deutsche Bank (NYSE:DB): Closing price $49.51
Internal bank documents indicate that the company made a minimum of €500 million, or $654 million in profit in 2008 out of  trades pegged to the interest rates under investigation by regulators on a global basis, the Libor. An inquiry by regulators has been looking into claims that over a dozen banks, including Deutsche Bank, rigged Libor along with other rates supporting trillions of dollars in loans and other financial contracts.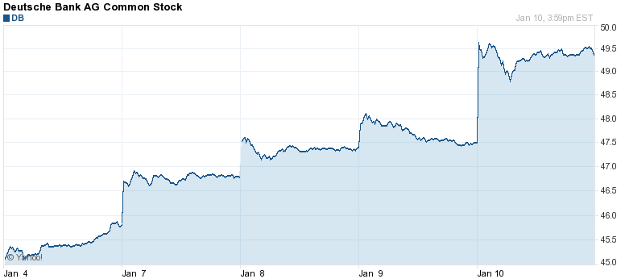 Don't Miss: Buffett Boosts the Industry: 3 Bank Stocks on the Move.