4 Financial Stock Stories Tracking on Top for Thursday
Deutsche Bank AG (NYSE:DB): Current price $46.49
In a move that should make it easier for investors to invest in stocks on the mainland, Deutsche Bank's asset management arm is now offering an exchange-traded fund. The fund will monitor the performance of China's 300 largest companies by market cap, traded on the Shanghai or Shenzhen stock exchanges. The government of China tightly limits foreign investment, and only permits some institutional investors the right to invest there, also restricting the amount of money that may cross borders.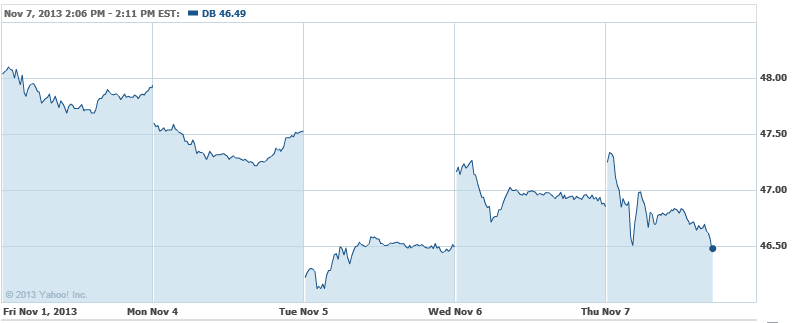 Citigroup Inc. (NYSE:C): Current price $48.66
Citigroup, through Citibank N.A., has been appointed by the Cayman Islands-registered 58.com Inc. as a depositary bank for its Level 3 American Depositary Receipt program. The company 58.com's ADR program was set up via a $215.05 million offering that was originally priced at $17 per ADR. The ADRs are listed on the NYSE under the symbol "WUBA." Each ADR represents two ordinary shares, but as a single-listed ADR program, the underlying ordinary shares are not listed or publicly traded in the issuer's home market.

Wells Fargo & Co. (NYSE:WFC): Current price $41.97
Avid Modjtabai, chief of Wells Fargo's consumer lending, says that the bank wants more affluent customers to use its credit cards. Such a development would help its strategy to become a more powerful player in that business, said Modjtabai on Thursday, who added that Wells is "clearly underrepresented" among the affluent, as she spoke at the BancAnalysts Association of Boston Conference. The executive observed that only 7 percent of Wells Fargo's active credit card customers are wealthy, versus an industry benchmark of 29 percent. The bank defines affluent customers as those having investible assets of more than $250,000.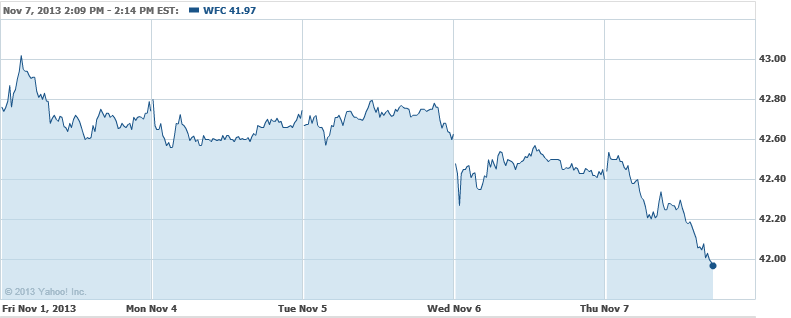 The Goldman Sachs Group Inc. (NYSE:GS): Current price $161.06
A number of sources estimate that Goldman Sachs and other underwriters on Twitter's IPO will share approximately $59.2 million for managing the sale, after accepting one of the smallest fee rates for a domestic initial public offering this year, says Bloomberg. The calculation is based upon the 3.25 percent of the $1.82 billion IPO that Twitter agreed to pay the banks conducting the sale, said sources.

Don't Miss: Top 10 States Where Home Prices Are Surging.