4 Financial Stock Stories You Can Take To The Bank
Goldman Sachs Group (NYSE:GS): Current price $164.35
In what some may consider an extraordinary move, Goldman Sachs accepted nearly 15,000 bottles of fine wine as loan collateral from a former high-ranking executive, said a regulatory filing from May. The former senior director at Goldman Sachs's specialist-trading division Andrew Cader, pledged a secured interest in the wines, which are mostly from the Burgundy and Bordeaux regions. According to the chief of Benchmark Wine Group in Napa David Parker, "There are a lot of very highly valued wines here," adding that the collection cited in the filing had an estimated market value in the lower million-dollar range.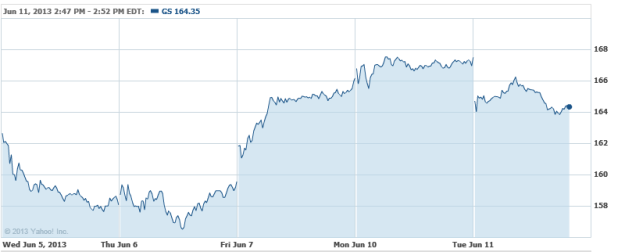 Wells Fargo & Co. (NYSE:WFC): Current price $40.85
Wells Fargo Commercial Banking is keeping up its steady growth in the Richmond area, and so has hired Thomas Palmer as a senior vice president and regional manager. Also joining the Richmond office will be Brian Combs, who will serve as senior vice president and senior relationship manager. Further, the firm has set up a Commercial Banking office in Fredericksburg, north of Richmond. Palmer brings over 27 years of financial experience to Wells Fargo, and specializes in building relationships and serving middle market customers who enjoy annual revenues of at least $20 million.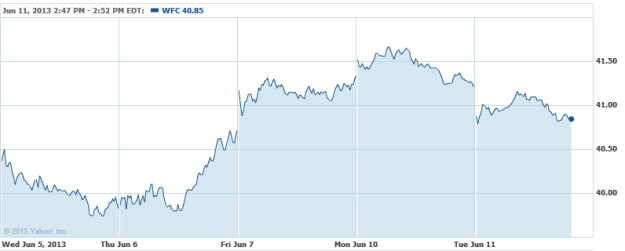 Credit Suisse Group (NYSE:CS): Current price $28.80
The Swiss banking group is mulling the divestiture of a portion of its German wealth management business, to lower expenses in its onshore units in Western Europe. The strategic sale forms part of the firm's attempts to reorganize its business by developing core businesses, and downsizing its troubled divisions. Credit Suisse management expects that such measures will push the company towards its desired performances. Such a sale would be a part of the bank's strategy to achieve 1.9 billion Swiss francs in cost reduction by the end of 2015.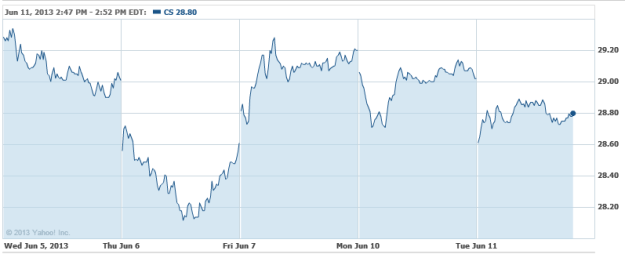 Deutsche Bank (NYSE:DB): Current price $46.91
On Tuesday, Deutsche Bank reported its appointment as the successor depositary bank for the Level I American Depositary Receipt program of United Utilities Group. The utility company provides water and wastewater services to roughly 7 million people and 200,000 businesses in the North West of England, providing  fresh water every day and taking away and treating wastewater. Together with the group's concentration on operational performance and customer service, it is spending some £3.5 billion in its network during the 2010 to 2015 time period, supplying customer and environmental benefits and pushing growth in the regulatory capital value.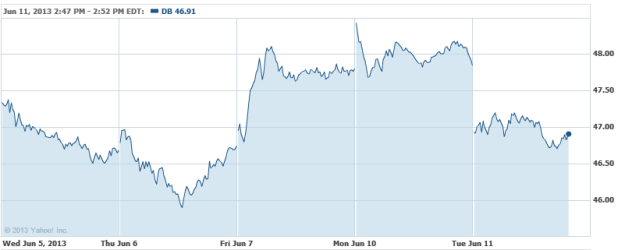 Don't Miss: 10 States That Offer the Most Comfortable Retirement.