4 Health Care Stock Stories Causing a Midweek Buzz
Merck & Co. (NYSE:MRK): Closing price $45.25
A Merck spokeswoman said Tuesday that the company will resume sales of its controversial Zilmax animal feed additive in the United States and Canada once it finalizes an audit of the manner in which the product is used. Merck ceased sales of the muscle-building drug in August, after Tyson Foods Inc. said it would no longer accept Zilmax-fed beef since some cattle were noticed arriving for slaughter with signs they were having difficulty walking or even moving. Merck said that it stands behind the safety of its product, but the hiatus added to global worries regarding its use.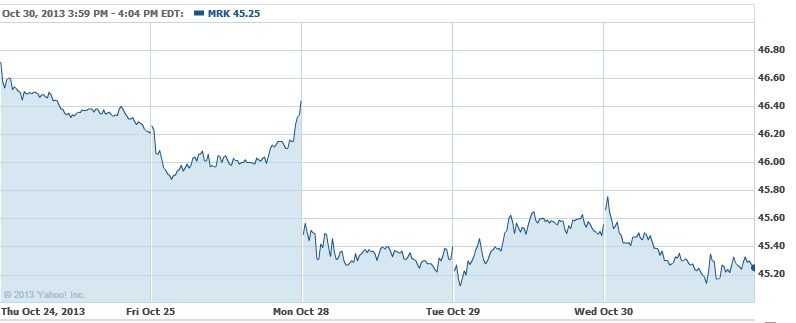 Prana Biotechnology Ltd. (NASDAQ: PRAN): Closing price $4.40
Prana Biotechnology, the developer of first-in-class treatments for neurodegenerative disease, on Wednesday announced the publication of an article in the peer-reviewed Aging Cell indicating the effects of PBT2 on neurogenesis and in reversing the memory and learning losses linked with the aging process in normal (ie non transgenic) old mice. The paper is entitled A Novel Approach To Rapidly Prevent Age-Related Cognitive Decline. The authors were led by associate professor Paul Adlard, head of the Synaptic Neurobiology Laboratory at the Florey Institute of Neuroscience and Mental Health.

Oxygen Biotherapeutics Inc. (NASDAQ: OXBT): Closing price $2.81
Oxygen Biotherapeutics and Phyxius Pharma Inc. said Wednesday that researchers at the Duke Clinical Research Institute, part of the Duke University School of Medicine, have recently published findings of a meta-analysis of multiple clinical trials that studied the use of levosimendan in patients undergoing heart surgery. The study collected and analyzed results from 14 independent clinical trials with a total of 1,155 patients. The published results indicated that levosimendan was linked with reduced mortality and other adverse outcomes including heart attacks during and after operation in patients having reduced heart function undergoing heart surgery.

Merrimack Pharmaceuticals Inc. (NASDAQ:MACK): Closing price $2.74
Merrimack on Wednesday reported results of a global Phase 2, open-label, randomized study of MM-121 in combination with paclitaxel versus paclitaxel alone in patients who have platinum-resistant or platinum-refractory advanced ovarian cancers. This evaluation did not meet the primary endpoint of progression free survival in the overall population. The hazard ratio for progression free survival was 1.0. Shares closed down 18.93 percent on Wednesday.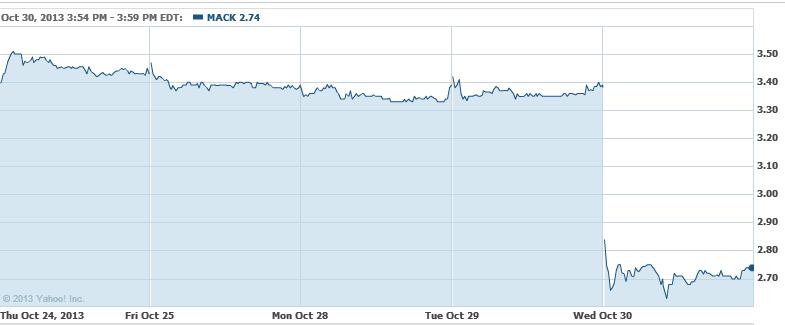 Don't Miss: These 5 Stocks Are Loving Obamacare.