4 Health Care Stock Stories Ready for Monday Perusal
Sanofi-Aventis (NYSE:SNY): Closing price $50.56
ImmunoGen on Monday announced the presentation of interim data from the ongoing Phase I trial of Sanofi's SAR566658 at the AACR-NCI-EORTC International Conference on Molecular Targets and Cancer Therapeutics meeting (abstract #A73) being held in Boston. SAR566658 is an ADC targeted to CA6, which is found on many cases of ovarian, breast, and other epithelial cancers. The data indicate that SAR566658 is generally well-tolerated and can induce objective responses and sustained stable disease in heavily pretreated patients who have CA6-positive cancers.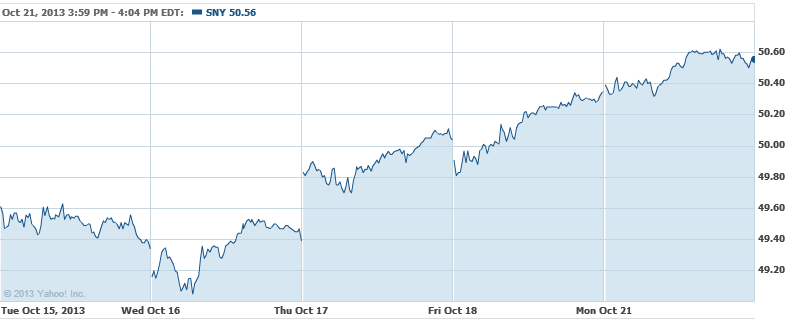 Regeneron Pharmaceuticals Inc. (NASDAQ:REGN): Closing price $294.47
Regeneron reported positive top-line results Monday for Eylea (aflibercept) Injection from the Phase 3 VIBRANT study in patients who have Macular Edema after Branch Retinal Vein Occlusion. In this trial, 53 percent of patients who received EYLEA 2mg every four weeks gained a minimum of 15 letters in vision from baseline at week 24, the primary endpoint of the study, versus 27 percent of patients who received laser, a standard-of-care treatment (p<0.001).

PDL BioPharma Inc. (NASDAQ: PDLI): Closing price $8.03
PDLon Monday said that it bought the rights to receive royalties and milestones payable on sales of Type 2 diabetes products licensed by Depomed in exchange for a cash payment of $240.5 million. PDL will receive all royalty and milestone payments due through the agreements until it has received payments equal to two times the cash payment made to Depomed, after which all payments received will be shared equally between PDL and Depomed.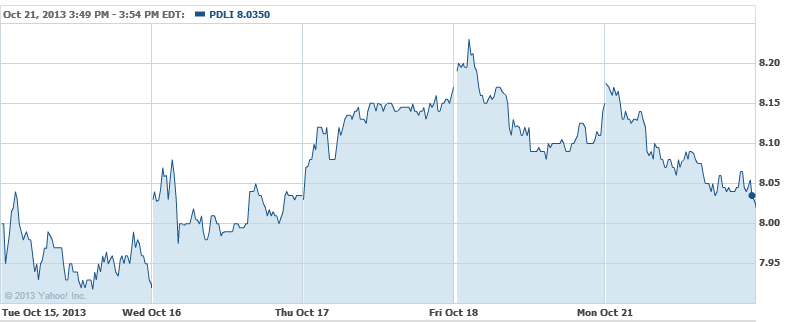 EntreMed Inc. (NASDAQ:ENMD): Closing price $1.88
EntreMed on Monday announced the presentation of preclinical data from a study to evaluate the role of p53 family tumor suppressors in mediating response to ENMD-2076 in triple-negative breast cancer. The study was led by Dr. Jennifer R. Diamond of University of Colorado, and the results were presented at the AACR-NCI-EORTC International Conference being held this week in Boston. EntreMed is a clinical-stage pharmaceutical firm, developing therapeutics for the treatment of a variety of cancers.