4 Healthcare Stock Stories Attracting Attention Today
StemCells (NASDAQ:STEM): Closing price $1.86
StemCells has reached an arrangement with the institutional investor Lincoln Park Capital Fund, through which it has the right to sell as much as $30 million of common stock to Lincoln Park. Proceeds will be used for general corporate purposes. Under the terms, Lincoln Park will immediately buy $3 million in shares of StemCells common stock at a price of $1.823 per share, which was the average of the prior ten trading days' volume weighted average price.
Are these stocks a buy or sell? Let us help you decide.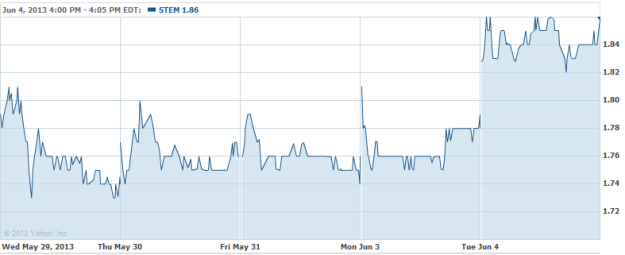 AstraZeneca (NYSE:AZN): Closing price $51.25
The firm will take a $140-million charge because it elected not to go for approval of an experimental rheumatoid arthritis treatment that exhibited mixed results in late-stage studies. AstraZeneca said Tuesday in a statement that the pretax impairment charge to research and development expenses will take place in the second quarter. The United Kingdom drugmaker will return the rights to the medicine, fostamatinib, to its American partner Rigel Pharmaceuticals. Fostamatinib is the most recent disappointment for AstraZeneca, which has suffered setbacks in the development of  treatments for depression and diabetes. The arthritis drug did not indicate a benefit versus Abbott Laboratories' (NYSE:ABT) Humira in a mid-stage trial, but showed benefits for patients in a late-stage study called Oskira-2 and brought mixed results in two late-stage trials dubbed Oskira-1 and Oskira-3.
Are these stocks a buy or sell? Let us help you decide.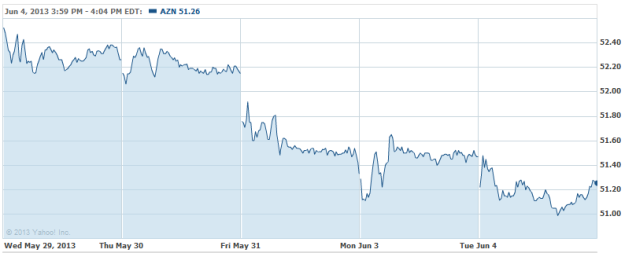 Novavax (NASDAQ:NVAX): Closing price $1.79
On Tuesday, Novavax said that it has made a public tender offer to purchase all outstanding shares and warrants of the Sweden-based Isconova AB, directly from holders, and it intends to extend a private offer for all outstanding stock options. The transaction in the aggregate is valued at around $29.6 million, based on the June 3rd close of Novavax's common stock. The buyer will buy all outstanding Isconova AB shares for about 15.5 million shares of Novavax common stock, corresponding to an offer value of Kr 15.46 for each Isconova share.
Are these stocks a buy or sell? Let us help you decide.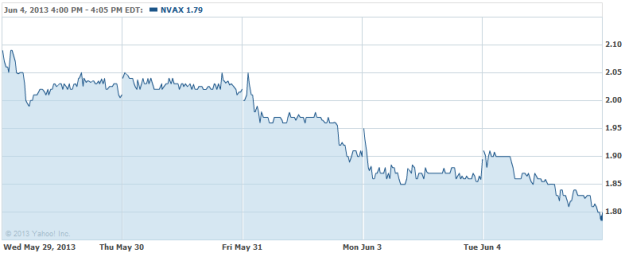 Merrimack Pharmaceuticals (NASDAQ:MACK): Closing price $5.34
The company has reported results from a Phase 1 clinical evaluation that indicate the novel antibody MM-121 can be combined with standard doses of certain cytotoxic agents  for investigation as treatment for patients suffering with advanced solid tumors. The research was presented at the 2013 American Society of Clinical Oncology Annual Meeting in Chicago, May 31st through June 4th. The Phase 1 study of 43 patients having advanced solid tumors established that MM-121 can be combined at its recommended single agent dose with gemcitabine, pemetrexed, cabazitaxel or carboplatin.
Are these stocks a buy or sell? Let us help you decide.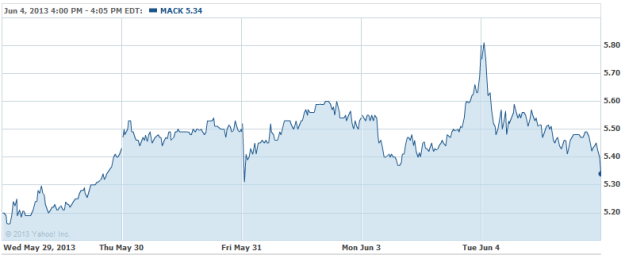 Don't Miss: Analyst: Here Are the Details on the New MacBooks.