4 Healthcare Stock Stories Closing Out June Trading
Sanofi-Aventis (NYSE: SNY): Closing price $51.51
The Sanofi company Genzyme said Friday that the Committee for Medicinal Products for Human Use of the European Medicines Agency has issued a positive opinion for approval of Lemtrada (alemtuzumab) for the treatment of adult patients suffering from relapsing remitting multiple sclerosis, with active disease defined by clinical or imaging features. Beyond that, the Committee released a positive opinion on new active substance designation for Aubagio (teriflunomide). Earlier in 2013, the Committee issued a positive opinion recommending the clearance of Aubagio for the treatment of adult patients with relapsing remitting MS.
Are these stocks a buy or sell? Let us help you decide.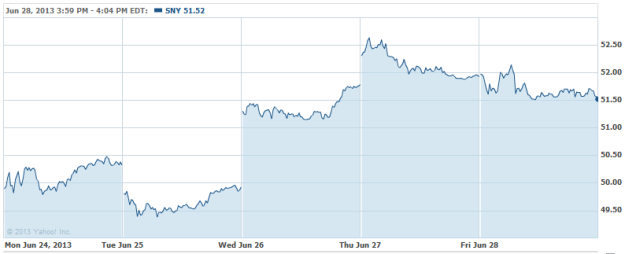 GlaxoSmithKline (NYSE:GSK): Closing price $49.97
Glaxo recently reported that the FDA granted breakthrough therapy designation to its late-stage candidate, drisapersen. The United Kingdom firm is developing drisapersen for the treatment of patients suffering with Duchenne muscular dystrophy. Glaxo, says that DMD is a rare condition which affects 1 in 3,500 live male births. The designation was granted to drisapersen based upon data from a phase II evaluation which examined the use of the candidate in patients suffering with DMD. Aside from the breakthrough therapy designation, drisapersen also holds orphan drug status in the European Union and in the United States.
Are these stocks a buy or sell? Let us help you decide.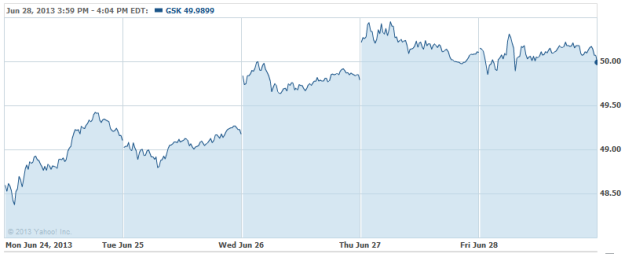 Hospira (NYSE:HSP): Closing price $38.31
The provider of injectable drugs and infusion technologies, on Friday was advised of a positive opinion from the European Medicines Agency Committee for Medicinal Products for Human Use recommending the European Commission approval of Inflectra (infliximab) for inflammatory bowel disease, rheumatoid arthritis, and plaque psoriasis. Inflectra (infliximab) is a biosimilar medicine to the reference medicinal product, Remicade (infliximab), and is the first monoclonal antibody therapy to receive a positive opinion after a review by means of the EMA biosimilars regulatory pathway.
Are these stocks a buy or sell? Let us help you decide.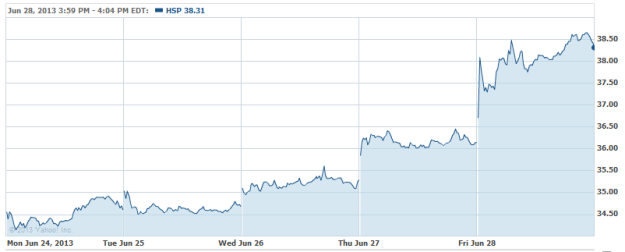 GTx (NASDAQ:GTXI): Closing price $6.60
On Friday, GTx reported that it has showcased two scientific poster presentations on enobosarm, which is a selective androgen receptor modulator for the prevention and treatment of muscle wasting in cancer patients, during the 2013 MASCC/ISOO International Symposium on Supportive Care in Cancer held at the InterContinental Convention Centre in Berlin, June 27th through the 29th. Among the poster presentations that took place at 9:30 Central European Time Friday morning at MASCC/ISOO include the randomized Trials in NSCLC Investigating the Selective Androgen Receptor Modulator Enobosarm to Prevent and Treat Muscle Wasting: Feasibility and Characteristics of Patients at Baseline.
Are these stocks a buy or sell? Let us help you decide. Check out our Stock Picker Newsletter now.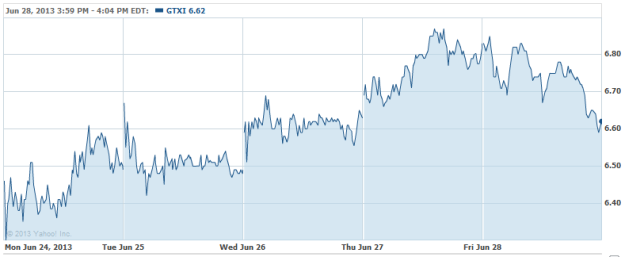 Don't Miss: The 8 Least Expensive States to Live in the U.S.