4 Healthcare Stock Stories Deserving of Monday Attention
Santofi-Aventis (NYSE:SNY): Closing price $53.29
An end to a very long drug development story could come in June, as the French firm Sanofi hopes for a European approval for its new multiple sclerosis drug Lemtrada. The drug's 25-year journey from a laboratory in Cambridge to a potential $1 billion-per-year seller has been linked to a series of pass-the-parcel deals in complex "drug dealing" between rival firms. Sanofi may well wind up with a new product to fill a hole in its medicine cabinet, the drug's slow evolution is not all positive to some doctors who are worried about pricing.
Are these stocks a buy or sell? Let us help you decide.
iBio (NYSE MKT: IBIO): Closing price $0.437
On Monday, iBio reported that its patent covering the composition and output of a human monoclonal antibody for the treatment of anthrax infection, has been permitted in China. The patent, which will be issued from Chinese patent application No.:200680036136.1, is entitled Compositions and Methods for  Production of Immunoglobins.
Are these stocks a buy or sell? Let us help you decide.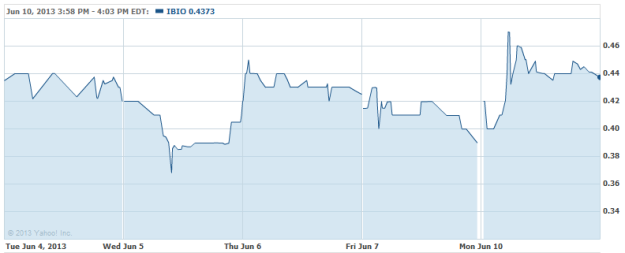 Isis Pharmaceuticals (NASDAQ:ISIS): Closing price $22.99
Isis and Xenon Pharmaceuticals said today that the latter has exercised its option to an exclusive worldwide license to XEN701, which is an antisense drug found in a collaboration between Isis and Xenon. For the license of XEN701, Isis gets a $2-million payment from Xenon.  XEN701 is a drug candidate created to inhibit the production of hepcidin, a target Xenon identified utilizing its extreme genetics platform for the treatment of anemia of chronic disorders. The drug is currently being studied in evaluations in support of clinical development. Xenon intends to initially develop XEN701 for patients suffering with chronic kidney disease who are intolerant of or who are poor responders to erythropoietin therapy.
Are these stocks a buy or sell? Let us help you decide.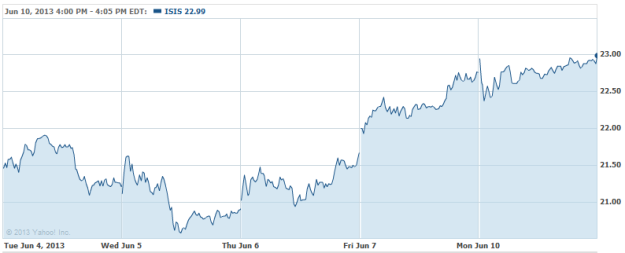 Clovis Oncology (NASDAQ:CLVS): Closing price $73.15
Clovis announced Monday that it has undertaken an underwritten public offering of shares of its common stock, so as to raise total proceeds of $170 million. All shares to be sold will be offered by Clovis Oncology, which intends to use the net proceeds for general corporate purposes, among which include the funding of its general and administrative expenses, development programs, acquisition or licensing of additional product candidates, or businesses and working capital.
Are these stocks a buy or sell? Let us help you decide. Check out our Stock Picker Newsletter now.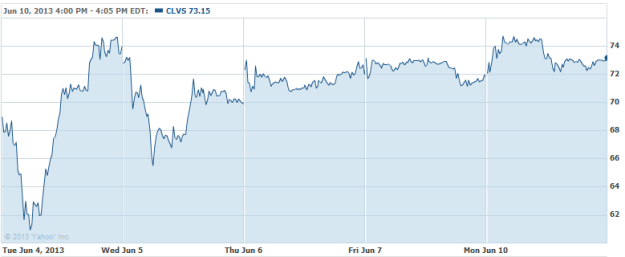 Don't Miss: Is AstraZeneca's String of Pearls Strategy Working?