4 Healthcare Stock Stories for a Savvy Investment Read
CVS Caremark (NYSE: CVS): Closing price $57.07
CVS shares closed up 0.56 percent Tuesday, after Jefferies began coverage with a Buy, and a price target of $71. "We recommend CVS Caremark as a core holding as we view it as the drug retailer best positioned to benefit from the Affordable Care Act, the aging of baby boomers and double-digit growth in specialty pharmacy. As the number-one US drugstore, number-two PBM, number two in Medicare Part D insurance plans, and number two in Specialty Pharmacy, the company's integrated PBM/retail model is best positioned to capture the coming shifts in the marketplace, in our view."

Boston Scientific Corp. (NYSE:BSX): Closing price $11.49
Data regarding Boston Scientific's Re-Entry Catheter System were reported at the Vascular Interventional Advances Conference in Las Vegas on Tuesday. The system showed excellent performance in facilitating the treatment of complete blockages in the major arteries that supply blood to the legs. These blockages, chronic total occlusions, are often linked with peripheral artery disease. The data from the Re-ROUTE clinical trial were reported in a late-breaking clinical trial session.

GlaxoSmithKline Plc (NYSE:GSK): Closing price $49.53
GlaxoSmithKline said Tuesday that its experimental malaria vaccine lowered infections over 18 months in a late-stage study, moving researchers a step closer to making the first protective shot against the disease available as soon as 2015. The RTS,S candidate reduced infections by 46 percent in infants ages 5 months to 17 months, and by 27 percent for 6-to-12-week-olds in the follow-up period after the first vaccination, the PATH Malaria Vaccine Initiative, which is developing the protection with Glaxo, according to a statement. The trial involved over 15,000 children in Africa.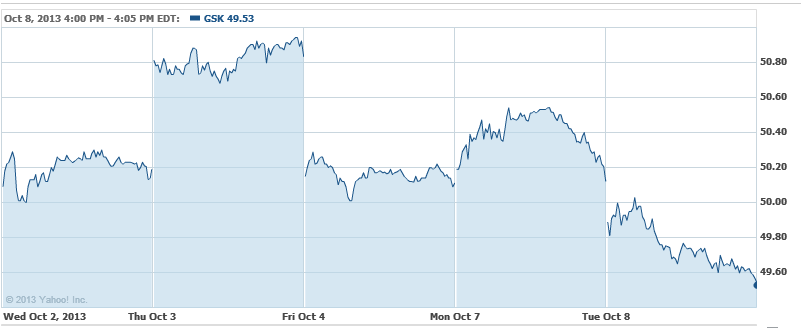 Keryx Biopharmaceuticals, Inc. (NASDAQ:KERX): Closing price $9.38
On Tuesday, Keryx said that its new drug application for Zerenex (ferric citrate coordination complex) has been accepted for filing by the FDA. The acceptance for filing of the NDA indicates the determination by the FDA that the application is sufficiently complete to allow a substantive review. The application was submitted on August 7, and requests approval for the marketing and sale of Zerenex as a treatment for elevated serum phosphorus levels, or hyperphosphatemia, in patients with chronic kidney disease who are on dialysis.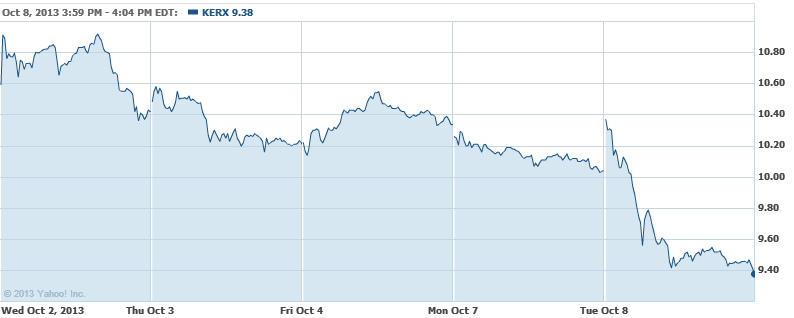 Don't Miss: The Obamacare Saga: Ongoing System Glitches and the Shutdown.