4 Healthcare Stock Stories for a Thursday Cure
Pfizer (NYSE:PFE): Closing price $26.83
Pfizer's partner GlycoMimetics has concluded the enrollment of patients in its Phase 2 study of GMI-1070, its lead investigational drug candidate. This randomized, double-blinded evaluation examined the efficacy, safety and pharmacokinetics of GMI-1070 in hospitalized sickle cell disease patients experiencing vaso-occlusive crisis. GlycoMimetics has enrolled 76 patients from the  ages of 12 through 65 at 22 trial sites in the United States and Canada. The company expects topline data in the second quarter.
Are these stocks a buy or sell? Let us help you decide. Check out our Wall St. Cheat Sheet Stock Picker Newsletter now >>
Vivus (NASDAQ:VVUS): Closing price $13.72
Shares of Vivus were downgraded Thursday at Brean Capital from Hold to Sell with a price target of $7, suggesting more than 50 percent downside. The company says that still, only 1 in 5 patients are covered by insurance for Qsymia, which causes "sticker shock" among patients even with the Get Started! program's free low dose drug offered by the firm, which management said that it is likely to modify sometime after January.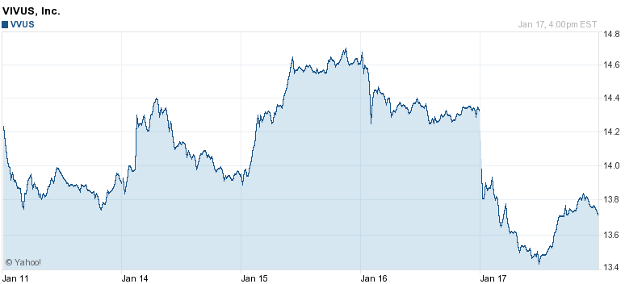 Medtronic (NYSE:MDT) Closing price $45.17
The firm's shares were upgraded Thursday at Credit Suisse from Neutral to Outperform along with a price target of $50. The stock closed Wednesday $43.94 with a 52 week range between $35.67 and $44.79.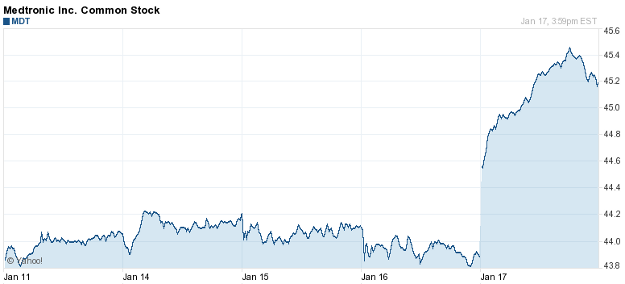 AVEO Pharmaceuticals (NASDAQ:AVEO): Closing price $7.61
The firm has initiated an underwritten public offering of shares of its common stock. All of the shares in the offering are to be sold by AVEO itself, but the proposed size of the offering was not reported. The sole book-running manager for the offering is J.P. Morgan Securities with RBC Capital Markets and Canaccord Genuity acting as co-lead managers.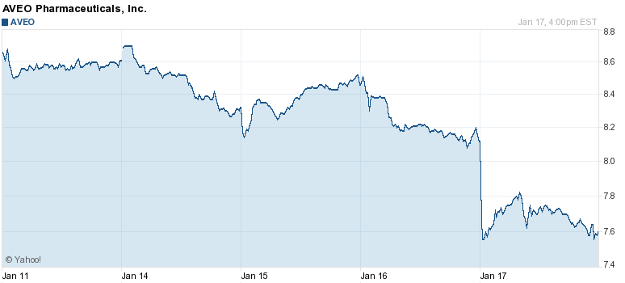 Don't Miss: Vivus's Weightloss Drug is a Flop and 2 Hot Healthcare Stocks to Watch.