4 Healthcare Stock Stories for a Tuesday Investment Checkup
GlaxoSmithKline Plc (NYSE:GSK): Closing price $51.17
Ligand Pharmaceuticals Inc.'s partner GlaxoSmithKline said Tuesday that the European Commission has granted an additional indication for Revolade eltrombopag) as a treatment for low platelet counts (thrombocytopenia) in adult patients suffering from chronic hepatitis C infection, in which the degree of thrombocytopenia is the main factor preventing the initiation or limiting the ability to maintain optimal interferon-based therapy. Thrombocytopenia may prevent the initiation and maintenance of peginterferon (pIFN)-based treatment, thereby reducing a patient's chances of attaining a sustained virologic response the primary goal of hepatitis C treatment.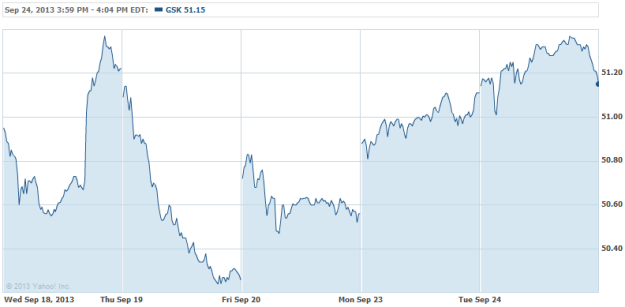 Sanofi-Aventis (NYSE:SNY): Closing price $50.54
Sanofi announced Tuesday its new GetGoal-L sub-analysis results indicating that reductions in HbA with Lyxumia (lixisenatide), when added to basal insulin, stood the highest in patients with type 2 diabetes who had well-controlled baseline fasting plasma glucose. These findings are in line with the efficacy profile of Lyxumia, which shows a clinical and statistically significant reduction in HbA across different patient populations.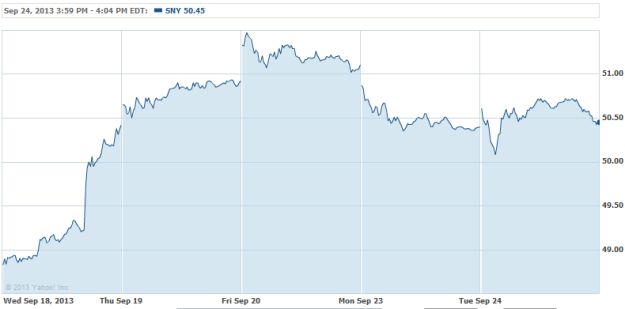 Teva Pharmaceutical Industries Ltd. (NYSE:TEVA): Closing price $38.72
On Tuesday, Teva announced the intro of the generic equivalent to Adenoscan (adenosine injection) in the United States. The firm was first to file, making the product eligible for 180 days of marketing exclusivity. Adenoscan is supplied as 20 mL and 30 mL vials and is indicated as an adjunct to thallium-201 myocardial perfusion scintigraphy in patients who are unable to exercise sufficiently. Marketed by Astellas Pharma, Adenoscan saw yearly sales of about $65 million in the United States, according to IMS data as of June 30.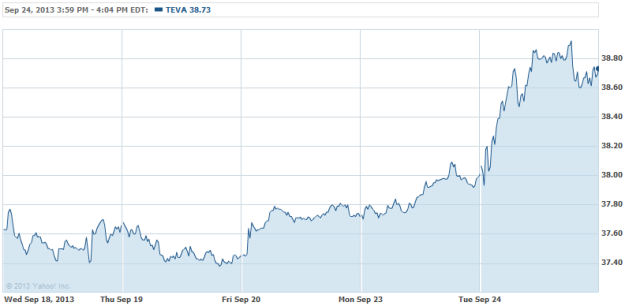 AstraZeneca Plc (NYSE: AZN): Closing price $51.58
AstraZeneca and Bristol-Myers Squibb Co. announced results from their Phase III evaluating dapagliflozin in adult patients suffering with type 2 diabetes who were inadequately controlled on combination treatment with metforminplus sulfonylurea. Patients treated with dapagliflozin 10 mg as an add-on therapy to metformin plus sulfonylurea showed significant improvements in glycosylated hemoglobin levels (HbA1c) and, among key secondary endpoints, significant decreases in fasting plasma glucose and in body weight, versus placebo at 24 weeks.
Significant improvements were also seen in seated systolic blood pressure at eight weeks in patients treated with dapagliflozin compared to placebo. The results were presented Tuesday at the 49th Annual Meeting of the European Association for the Study of Diabetes in Barcelona.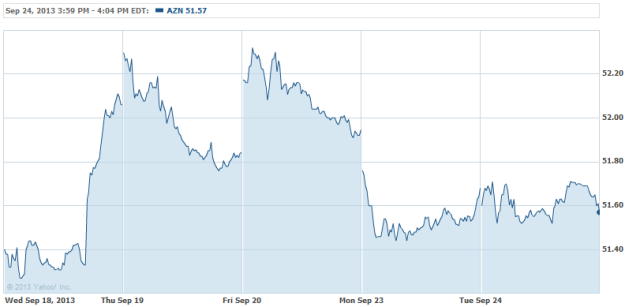 Don't Miss: Is Ben Bernanke the Best Fed Chairman in History?