4 Healthcare Stock Stories for a Tuesday Investment Checkup
GlaxoSmithKline (NYSE:GSK): Closing price $52.61
Zacks Equity Research reports that GlaxoSmithKline boasts of a impressive vaccine portfolio, which includes vaccines such as Infanrix/Pediarix, Rotarix, Synflorix, and Cervarix. The Untied Kingdom firm has an impressive vaccine segment, which generated sales of 2.5 billion euros in the first nine months of this year, roughly 12.5-percent of the total product sales of the company. Synflorix is cleared for active immunization against pneumonia caused by streptococcus pneumoniae in children aged from 6 weeks to 5 years in 67 countries. Besides this, Synflorix is also confirmed for active immunization against invasive disease and acute otitis media caused by streptococcus pneumoniae in children aged between 6 weeks and 5 years in the European Union and 90 other countries. Currently, Synflorix is not approved in the United States for any indication.

Medtronic Inc. (NYSE: MDT): Current price $58.52
On Tuesday, Medtronic reported the highly anticipated results from the CoreValve U.S. Pivotal Trial, marking the first domestic data presented on the Medtronic CoreValve System. The study of the novel self-expanding device, presented at a late-breaking clinical trial session of the Transcatheter Cardiovascular Therapeutics 2013 Conference, attained its primary endpoint in patients who were thought too ill or frail to have their aortic valves replaced through traditional open-heart surgery, having a rate of death or major stroke at one year of 25.5 percent. This result is highly significant, as it was 40.7-percent lower in patients treated with the CoreValve System than was anticipated with standard therapy (a pre-specified performance goal of 43 percent).

OncoMed Pharmaceuticals Inc. (NASDAQ:OMED): Closing price $14.63
OncoMed announced that it has begun a multi-center Phase 1b clinical trial of its first-in-class Wnt-pathway-targeting antibody vantictumab (OMP-18R5) with paclitaxel in breast cancer. This trial marks the first of three Phase 1b trials for vantictumab that OncoMed expects to initiate in 2013 as part of OncoMed's collaboration with Bayer Pharma AG. Interim results for the single-agent first-in-human Phase 1a trial for vantictumab in solid tumor patients were reported at the 2013 European Cancer Congress in Amsterdam, in September. OncoMed is a clinical-stage frim developing novel therapeutics that target cancer stem cells, or tumor-initiating cells.

Sunshine Heart Inc. (NASDAQ:SSH): Closing price $11.63
Sunshine Heart said Tuesday that the initial C-Pulse System patient data of its ongoing OPTIONS HF EU trial was presented by Professor Thomas Krabatsch, Director of Mechanical Circulatory Support, at the German Heart Institute in Berlin to the investment community at Sunshine Heart's third annual analyst breakfast event, held at the W Hotel San Francisco. As announced on October 22, the event also included presentations from Dr. Andrew Kao, Associate Professor of Medicine at the University of Missouri-Kansas City along with Dr. William Cohn, Director of Minimally Invasive Surgical Technology of the Texas Heart Institute.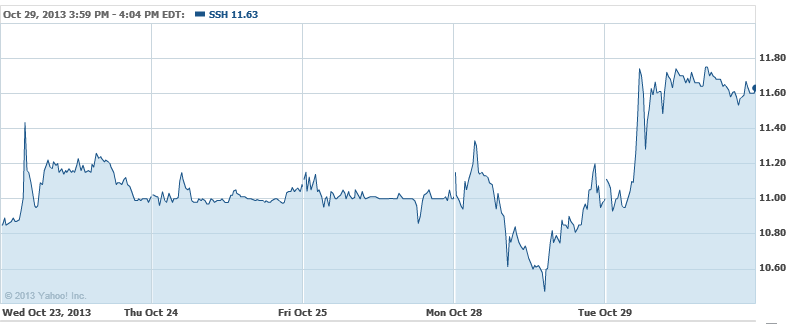 Investing Insights: Does Merck Have a Bright Future?